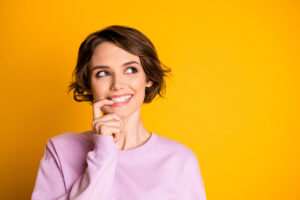 When you want to obtain a smile that looks great, you need cosmetic dentistry. These treatments are designed specifically to improve the overall beauty of your smile, often in only one visit. In today's blog, your Leawood, KS, dentist is taking a close look at our cosmetic treatments, and explaining how they can transform the shape, color, and alignment of your teeth.
Your Initial Consultation
First, we need to understand the cause and extent of your cosmetic issues. To do so, we will talk to you about your treatments, and also use digital x-rays and intraoral cameras to take detailed images of your smile from multiple angles, so we can diagnose the cause and extent of your cosmetic concerns. Our team then creates a treatment plan, sometimes combining procedures, to transform your smile. Sometimes, we can do this only one visit.
Teeth Whitening Options
We have two different options for brightening smiles and removing teeth stains. For fast results, we could offer an in-office teeth whitening option that brightens teeth in only one visit, often in as little as an hour. We do this by applying a bleaching gel to the teeth and then using a special light to activate the bleaching ingredients, breaking up the stains. If you need a brighter smile before a wedding, first date, or job interview, this could be the optimal choice.
We also have an at-home option that can brighten teeth in one to two weeks by up to eight shades. The procedure starts with an office visit so we can create a custom-made set of plastic trays. We then send these home with you, along with a bleaching gel. Each day, you will add gel to the trays and wear them for about an hour. The gel breaks up stains and the trays ensure even results across the smile.
Bonding
Dental bonding uses composite resin, which we shade to blend with your teeth, to repair minor damage, brighten teeth, and address unsightly gaps between teeth. Placement only takes one visit, and can help make major changes in one visit. We actually use the same material in our tooth-colored dental fillings too. The procedure involves applying the shaded composite resin material to your teeth. We then cure and shape them with a special light in the same visit. Cosmetic care in only one visit!
Dental Contouring
Dental contouring involves gently sanding and buffing the teeth to address esthetic issues with the surfaces and shape, as well as bite balance and chewing function. Again, this only takes one visit to complete.
Porcelain Veneers
To completely makeover a tooth, we could apply a dental veneer to them. Made from porcelain, this thin shell is custom-made to cover the front and sides of the teeth. Porcelain can be shaded to blend with your smile, and they reflect the natural translucence of tooth enamel. We can address issues with the shape and color at once, and also correct the appearance of misalignment and close unsightly gaps between teeth too. We could combine these with bonding and contouring for a cost-effective smile makeover, and can brighten the smile beforehand with whitening so they match your brightest possible smile.
Tooth Jewelry
If you want a unique cosmetic procedure to help your smile stand out, we could offer tooth jewelry. Twinkles® tooth jewelry are small crystals encrusted with gold that we attach to the front of your teeth. They bond with the teeth and look great, and we can remove them for you with ease at a later date.
Invisalign®
If you have dental misalignment, we can correct crooked, crowded, and overlapping teeth without the use of braces. Instead, we will provide a series of clear Invisalign plastic aligners created from digital impressions taken of your teeth. Each set is custom-made to ensure a comfortable fit and treatment with precision. You wear a set of them for about two weeks, 20 to 22 hours a day. Then you begin wearing the next set and continue this process for about a year on average. These are completely clean, and they can be removed to make meals and brushing and flossing much simpler too.
If you have any questions about how we correct the beauty of your smile with cosmetic dentistry, then contact our team today to learn more. We're ready to help make dramatic differences in the appearance of your smile, often in only one sitting.
Do You Have Questions About Our Cosmetic Treatment?
Contact Dreem Dentistry in Leawood, KS by calling 913-681-5500 to learn more about how we can help improve the overall beauty of your smile. Cosmetic dentistry can offer major transformation for common cosmetic imperfections.