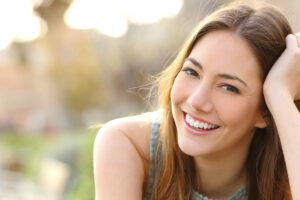 Your smile is one of your greatest assets. Not only can a person's smile tell you a lot about their habits, outlook on life, and hygiene, but it can serve a host of functional benefits as well. Indeed, your smile is a versatile feature, and it is important to provide the care necessary to keep it strong and healthy so as to fend off the myriad of bacterial dental threats. Still, you should not feel you aren't able to seek smile enhancement procedures, and cosmetic dentistry can assist a variety of needs. In today's blog, your Leawood, KS dentist shares with you the benefits of enhancing your smile's appearance with dental whitening.
Looking to Address Stains?
Whether you are aware of it or not, your smile contains many sources of stain development. For example, age in and of itself is a contributing factor to a dulling look, and other aspects only add to this issue. What's more? Habits such as using tobacco products or consuming excessive amounts of alcohol can cause your teeth to take on a more subdued, brownish look.
As if age and habits were not enough, your diet can even have a subtle influence on stain development. For instance, the cup of coffee you need to kick start your day contains pigments that darken your grin, and items such as blackberries and raspberries can cause discoloration.
Although stains may develop in the aforementioned ways and more, not all hope is lost. You see, dental whitening allows our team to address these smile blemishes in a simple and straightforward manner. To learn more about this area of dentistry and how your smile could benefit, give our team a call today.
Simple Treatment for Chips and Cracks
If stains are not so much the issue, but rather, minor chips or cracks, then your best treatment option may consist of bonding and contouring. This procedure applies a composite resin material to the surfaces of the cracks or chips and then is smoothed and cured.
One major benefit of the bonding and contouring process is that the material that is used can be shade-matched to the natural hue of your grin. This results in a virtually seamless finish, and thus a lifelike result. Contact our team to learn more today.
An All-Encompassing Solution
When dealing with a smile riddled with a host of cosmetic concerns, no treatment is better suited than that of porcelain veneers. Veneers consist of ultra-thin shells of dental porcelain that are bonded to the front of your teeth. Due to their lifelike appearance, most people will not even know that you received treatment, to begin with.
Schedule Your Appointment
Contact Dreem Dentistry in Leawood, KS by calling 913-681-5500 to schedule your next appointment with our team and learn more about the many benefits of cosmetic treatment.