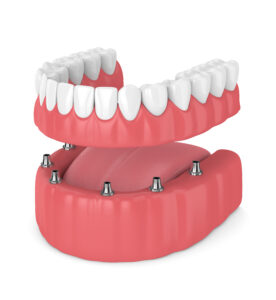 Taking care of your smile is a process that will accompany you well into adulthood. Indeed, your teeth and other oral structures serve a number of important purposes, including completing your grin and allowing you to perform tasks such as biting, chewing, or eating. The unfortunate truth of the matter is, however, that oral bacteria, germs, infections, and even physical injuries and damage can complicate your smile's health greatly, even resulting in tooth loss. In today's blog, your Leawood, KS dentist explains how implant-retained prosthetics can enhance your smile in many ways, as well as how our team can help.
Implant-Retained Prosthetics
Although you may be taking care to brush, floss, and rinse with mouthwash at home, there is still more that can be done to protect your smile. After all, there are more threats to its integrity than can be counted on both hands, and unfortunately, not nearly as many naturally-occurring defenses. With this in mind, it only makes sense that infections and other concerns may get through more often than you might expect.
You see, bacteria-related concerns are the most common threats to your oral health, and once they settle in, they can be difficult to get rid of. What's more? Many people may not even notice there is an issue to deal with until it has developed drastically, resulting in greater damage. In situations such as this, tooth loss may be inevitable.
Still, just because a major infection has resulted in a lost tooth, that does not mean all hope is lost. In fact, dental implants can address questions of function while also completing your grin with a lifelike artificial tooth. To learn more about this process and how our team can help, give us a call today.
Spanning a Gap with a Bridge
Dental implants function by mimicking the role of your natural teeth roots. This allows them to create a secure bond or connection with your jawbone, thus allowing the artificial tooth to absorb the pressure of your bite appropriately.
Not only can implants help by replacing a single tooth, but they can be used in conjunction with prosthetics in order to more appropriately address your needs. For example, a person missing several structures in a row could benefit from an implant-retained dental bridge. Contact our team to learn more.
Benefits of Implant Dentures
Just as implant posts can be used with a bridge, they can also be used in conjunction with dentures to address total tooth loss. Indeed, implant-retained dentures can utilize biocompatible posts in a special way so as to provide the structural integrity and support needed to perform routine tasks without causing significant trauma or damage.
Schedule Your Next Appointment
Contact Dreem Dentistry in Leawood, KS by calling 913-681-5500 to learn more about the functional capabilities of implant posts, and schedule your next appointment with our office today.