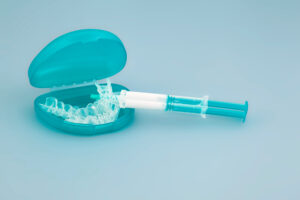 For many of us, the ultimate goal is to maintain a bright and jubilant smile for life. We recognize that this starts early on in life, meaning it is important we learn effective preventive practices as soon as possible. Though dental prevention may do an excellent job of fending off bacterial threats and other concerns of the like, it, unfortunately, might not provide much in terms of keeping your smile bright and white. In today's blog, your Leawood, KS dentist discusses the pros of seeking cosmetic treatment and how most adults can benefit from dental whitening at least once in their lives.
Combatting Years of Surface-Level Damage
Over the years, we learn a lot about our smiles, how to maintain excellent health, and what practices or habits we should avoid to keep our grins protected from harm. We also learn that virtually every factor out there influences our oral health, and most of the time, it is to a negative degree. While we continue to practice prevention to afford our smiles the best chances of success, sometimes the biggest concern actually has to do with surface-level concerns.
You see, age in and of itself contributes to a duller, less vibrant appearance. In addition to this, the types of foods and beverages you consume can contribute to stain formation over the years. For example, that morning cup of coffee you drink daily to kickstart your day contains staining pigments, just as some of the fruits and berries you consume.
Age and diet are not the only factors that can lead to stain development, as habits like tobacco use and excessive alcohol consumption can also cause discoloration. Because of this, most adults can benefit from cosmetic treatment. Contact our team to learn more.
In-Office Teeth Whitening
Cosmetic dentistry consists of any practice that sets out to address surface-level concerns using surface-level treatment. Among the options most dentists offer, teeth whitening is certainly the most common.
During your dental whitening appointment, our team will apply a strong but safe bleaching agent to the surfaces of your teeth. We then activate this material using a special light, and it gets to work breaking up and lifting stains. It only requires a single visit to complete, and you will begin to notice a difference of up to several shades before you know it. To learn more about this process and how our team can help, give us a call today.
Try Our Take-Home Trays
If you are finding it difficult to schedule time for an in-office cosmetic visit, do not fret! Ask our team about our custom take-home whitening trays, which allow you to enhance your smile's appearance at your own convenience.
Schedule Your Next Appointment
Contact Dreem Dentistry in Leawood, KS by calling 913-681-5500 to schedule your next appointment with a member of our team and learn more about the benefits of cosmetic teeth whitening.