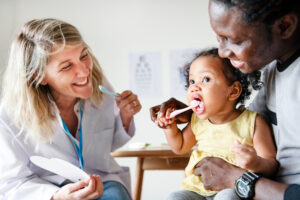 In order to maintain a healthy and strong smile for life, you should engage in quality preventive dental care. Indeed, your oral health is one of the most important factors to consider when seeking dental treatment, and the majority of its protection relies on your at-home preventive practices. Additionally, how early you start oral care plays a factor in the success of your smile, and our team encourages you to begin care with your little one as soon as possible. In today's blog, your Leawood, KS dentist discusses the importance of taking care of younger smiles and what to know about children's dentistry.
Why Start Early?
We all are familiar with the concept of a person losing his or her baby teeth, as we have all been through it. This phenomenon occurs as a natural part of the growing process and allows your permanent adult teeth to come in to take the missing structures' places. Though it may seem counterintuitive to practice strict prevention prior to this moment, in all actuality, there are several important advantages.
One advantage of starting children's prevention early is that it allows your little one to learn and hone effective practices. Believe it or not, there is a right and wrong way to brush your teeth. Though they both ultimately aim to accomplish the same goal, brushing up and down or side to side only addresses part of the problem. Remember to teach children to brush in little circles so as to provide a more thorough clean.
In addition to teaching excellent habits, starting oral health care for children early can help elongate their smile's lifespan by laying a solid foundation of oral health. To learn more about this process and how our team can help, give us a call today.
Scheduling Their First Checkup
Children's dentistry is similar to adult dentistry in a number of ways, including the need for routine office visits. In fact, our team recommends bringing your little one in either by the sign of his or her first tooth or by his or her first birthday, whichever comes first.
The initial meeting is for us to get an idea about your little one's smile development. Following this, we recommend bringing him or her in for regular six-month visits starting at the age of three years old. Contact our team to learn more.
Additional Treatments for Strength
One thing to be aware of when it comes to children's dentistry is that their smiles are growing ones. Sometimes they could use a boost of strength, and our team has the solutions to help. Ask our team about fluoride treatment and dental sealants for extra protection from bacteria-related threats.
Schedule your Family's Appointment
Contact Dreem Dentistry in Leawood, KS by calling 913-681-5500 to schedule your next appointment with our team and learn more about the ins and outs of children's dentistry.