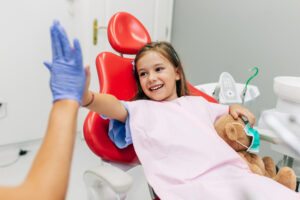 Whether you are aware of it or not, your smile is highly influenced by various aspects and elements it comes into contact with. Indeed, from the foods you eat to the level of preventive care you practice and everything in-between, there is not much that your grin is completely protected from. With this in mind, your dentist places a strong emphasis on the need for routine preventive care, including attending your regular checkups and cleanings. In today's blog, your Leawood, KS dentist discusses the need for regular checkups and cleanings, and encourages our patients to schedule their visits before school begins.
An Essential Part of Prevention
From a young age, your dentist, parents, or caregivers stressed the need for routine dental care. More often than not, this took the form of brushing your teeth daily. While at the time you may have thought of it as nothing more than a ploy by adults to make you do stuff you did not want to do, in reality, you were paving the way for a strong foundation of oral health.
Indeed, brushing is necessary to keep plaque and tartar deposits away, but it is far from the only practice you should be considering. As a matter of fact, most dentists recommend an at-home routine consisting of brushing twice a day, rinsing with antiseptic mouthwash, and of course, flossing between meals.
Though you may be taking care to perform all of these tasks at home, bear in mind that this still only represents part of the equation. The other part consists of attending your routinely-scheduled checkup and cleaning appointments, which should occur at least once every six months. To learn more about this process and how our team can help, give us a call today.
Benefits of Your Examination
The first step in your dental checkup appointment is your formal examination. After your dentist has taken the x-rays necessary to gauge your oral health, he or she will perform a detailed examination. This process consists of examining each oral structure, including your teeth, gums, tongue, throat, and more. Each of these factors is examined for signs of damage, infection, trauma, or other point of concern, and we help create a treatment plan tailored to your precise needs. Contact our team today to learn more about this process.
A Cleaning for a Healthier Smile
In addition to your examination, we will provide a cleaning to help remove deposits of plaque and tartar that may have nestled in the hard-to-clean areas of the mouth. Without interference, these deposits can harbor various bacteria and germs, which not only contribute to bad breath, but can damage your smile's health as well.
Learn More Today
Contact Dreem Dentistry in Leawood, KS by calling 913-681-5500 to schedule your next appointment with our team and learn more about scheduling your next checkup and cleaning before the school year starts.