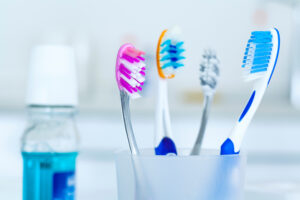 Looking and feeling your best can mean a lot, but for many, it means sporting a vibrant and youthful smile. Indeed, your grin is oftentimes the first thing someone notices about you, and it can communicate a surprising amount. From your hygiene habits to your level of confidence and happiness with life, there is not much a smile cannot discern. Still, in order to maintain a jubilant and vibrant grin, you must take care to provide regular dental prevention. In today's blog, your Leawood, KS dentist discusses the need for preventive practices, as well as what steps you can take to ensure a healthier grin.
Your Only Line of Defense
It goes without saying that dentistry in and of itself is a complex area of practice. It involves everything that has to do with your mouth and oral health, and it can range in terms of treatment options. For example, cosmetic care addresses surface-level blemishes and other concerns of that nature, whereas restorative care is designed to mitigate the spread of damage, infection, or other issue.
Among the many forms of dentistry, however, there are none better suited for defense than that of dental prevention. Indeed, there are several sources of threat and complication that can arise from even more issues, and unfortunately, there is not much in terms of natural defenses. As such, your grin could benefit from a helping hand.
Dental prevention consists of any practice that aims to strengthen your natural enamel, protect against infection, and overall prioritize your structural health. It is a process that should be practiced both in-office and at home, and we are more than happy to help you get started. For more information about this process, give our team a call today.
Steps to Take at Home
When we ask our patients about their at-home habits, they are often quick to discuss brushing. Indeed, brushing your teeth is a healthy foundation for preventive care, but it is not the only step you must take. You see, your oral health is influenced by each component of your oral cavity, meaning an effective preventive routine considers these elements.
A thorough routine at home should consist of brushing your teeth at least twice a day, flossing between meals, and of course, rinsing using antiseptic mouthwash. Contact our team today to learn more.
In-Office Checkups and Cleanings
In addition to at-home practices, no routine is complete without a standard in-office visit. Indeed, your dental checkup and cleaning are essential steps for a healthy grin, and this visit allows a professional to provide an in-depth examination of your oral health status.
Learn More Today
Contact Dreem Dentistry in Leawood, KS by calling 913-681-5500 to schedule your next appointment with our team and learn more about the steps you can take for better overall smile health.