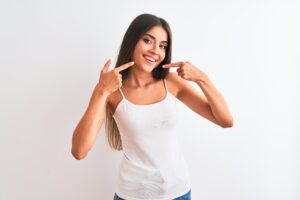 Discoloration can cause embarrassment, but we don't want you to hide your smile. We also don't want you to rely on store bought options either, which could cause tooth sensitivity and offer only minor results. Instead, talk to your Leawood, KS, dentist about our professional teeth whitening treatment options.
The Causes of Teeth Stains
Discoloration could occur for a number of reasons, and understanding how can help you make better decisions for your smile! For example, plaque buildup can make stains more visible, and could be encouraged by diets high in sugar and starch combined with improper brushing and flossing habits. In addition, drinks with tannins and dark pigments, like coffee, soda, tea, and red wine, could make discoloration more visible. Other factors include tobacco use, such as cigarettes, and lack of professional dental cleanings too!
Our Professional Whitening Options
You can brighten your smile from home! We can create a set of custom plastic trays in-office, and send them home with you, along with syringes of bleaching gel. The trays will be filled with the gel and worn for about 30 to 45 minutes a day, or possibly overnight. This takes one to two weeks to see optimal results. We also have disposable trays that can shape to your teeth, with a unique set worn each night for ten days. Either way, the trays will help ensure even results across your smile, and prevent saliva from diluting the gel. For some, smiles could be eight shades brighter after only one to two weeks!
We also have an in-office option if you need results quickly. Our team will place a protective covering on your lips and gums, and apply a special bleaching gel that we activate with a light. This will begin breaking up the stains and offering stunning results in as little as one to two hours. For more severe discoloration, we can send you home with trays and gel following the in-office procedure.
Keeping Your Teeth Bright
How do you help your results truly last? Well, you can make sure you brush twice a day and floss every evening. Try to cut back on sugary and starchy foods, and drinks with dark pigments. You can see us every six months for a checkup and cleaning every six months too. These actions help prolong your new results! If you have any questions about how we brighten smiles with professional teeth whitening, then contact our team today to learn more. A stunning smile is always possible with cosmetic dentistry.
Find Value In Your Smile Today
Contact Dreem Dentistry in Leawood, KS by calling 913-681-5500 to schedule your next appointment with our team and find out how we can brighten your smile by several shades.