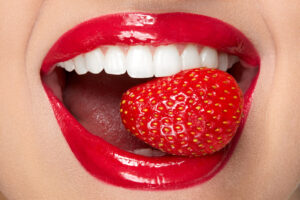 Your smile serves a number of very important roles throughout the course of your life, and the sooner you start routine care, the better protection you are affording your grin. In other words, only with early prevention can you maintain a healthy, lifelong smile. Still, sometimes infections and other health-complicating concerns are not the primary issue, and instead, surface-level blemishes can threaten a person's confidence and happiness in their overall oral appearance. In today's blog, your Leawood, KS dentist discusses the major benefits of cosmetic dental treatment, as well as how most adults can benefit from teeth whitening at least once in their lives.
Removing Difficult Stains
It goes without saying that your teeth and other oral structures are constantly coming into contact with various factors. While some of these may be obvious, such as tooth decay, gum disease, or some other type of common infection, others may be influencing your grin on a daily basis without you even noticing. These may include the habits you choose to partake in, as well as some of the foods and beverages that you consume.
Indeed, many foods and drinks contain pigments that stain your teeth, and without consistent and time-sensitive preventive care, this process can lead to the development of difficult, hard-set stains that regular brushing can no longer address.
While surface-level stains may not directly influence your health, that does not mean they should remain present. As a matter of fact, many people place a heavy emphasis on their oral appearance, and even a minor stain can cause a significant reduction in confidence. Fortunately, this is why our team offers cosmetic dental care such as teeth whitening. For more information about this process, reach out to our team today.
Simple Treatment
Cosmetic dentistry is considered any treatment that aims to address surface-level concerns in a noninvasive manner. While there are a few different options to pursue depending on your needs, none are better suited for noticeable stains than that of dental whitening.
Indeed, teeth whitening is a process that consists of applying a strong but safe bleaching agent to your teeth, then activating it with a special light. Once treatment is completed, you will begin to notice a difference of up to several shades brighter in virtually no time! Contact a member of our team today to learn more.
A Brighter Overall Appearance
Your smile is one of your greatest assets, and one that is often the first thing someone notices about you! As such, don't let your happiness and confidence sit on the sideline just because a stain has developed. Cosmetic dental whitening can address difficult stains and enhance your overall appearance, all a single visit!
Learn More Today
Contact Dreem Dentistry in Leawood, KS by calling 913-681-5500 to schedule your next appointment with our team and learn more about our cosmetic dental options.