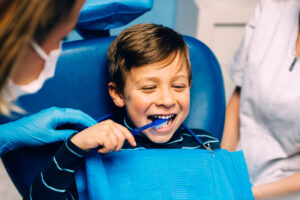 Taking care of your grin is a lifelong practice that involves providing attention to different components of your smile. These include your gums, teeth, tongue, and other tissues. Further, a full preventive regimen often consists of brushing your teeth, flossing, and rinsing with mouthwash in order to prevent bacterial concerns that lead to decay and periodontal infection. When it comes to planning dental care, however, it is important to get a head start while you are young in order to increase your chances of a lifelong grin. In today's blog, your Leawood, KS dentist discusses when you should schedule your child's first checkup, as well as what you can expect from this visit.
The Earlier the Better
Your smile is essential for various tasks, including biting, chewing, and eating. What's more? There are various bacteria and germs that come into contact with it on a daily basis, so providing additional care is a must if you aim to maintain a healthy grin for life. This same concept applies to tiny grins, and just because the baby teeth will be replaced by permanent structures, that does not mean you should skimp on preventive care.
But, just how early should you start your little one on a preventive routine? In reality, most dentists recommend bringing your children in for their first appointment by the age of one or the sign of their first tooth, whichever comes first. This is to help familiarize your family with our office and ensure everything is on track.
Following a child's first appointment, we will begin to see your little ones regularly around the age of three years old. This helps us keep an eye on developing teeth while also allowing us to prevent any minor issues from developing into major concerns. For more information about this process, give our team a call today.
Establishing Habits Early
Another important element of your child's regular checkups starting at age three includes teaching healthy habits early. Not only are children impressionable, but they tend to mimic the behavior of their parents. In other words, if you are excited about excellent prevention, there is a chance that your children will see this reaction and follow suit. Give us a call to learn more.
Treatment for Additional Strength
Because tiny grins are very impressionable, they could often use a little extra help to fend off various bacteria. Our team can provide a dental sealant or fluoride treatment so that smaller teeth receive that extra boost of strength when necessary. The former option consists of painting a layer of acrylic over the back molars to seal tiny nooks and crannies, whereas the latter consists of applying fluoride to the front of the teeth.
Learn More Today
Contact Dreem Dentistry in Leawood, KS by calling 913-681-5500 to learn more about extra protections for younger smiles, and schedule your dental appointment with our team today.