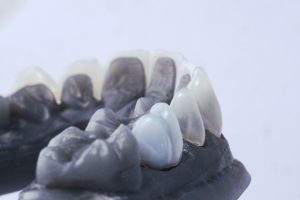 It goes without saying that oral health complications can be a pain to manage, especially if they have developed further than expected. What's more? You could do everything correctly when it comes to your at-home preventive routine, but falling short in any one area is all it takes to invite oral bacteria and other concerns in. Arguably one of the most frustrating things to encounter, however, is a noticeable smile blemish simply because it does not impact your health, but it absolutely impacts your grin's appearance. In today's blog, your Leawood, KS dentist discusses the troubles that arise from multiple different cosmetic issues, and how they can all be addressed simply with porcelain veneers.
When You Don't Need Restorations
There is nothing worse than exuding serious time and energy into your preventive routine at home just to discover you have a cavity at your next checkup and cleaning. After all, concerns such as these develop gradually, which means there must have been a consistent disregard for one area of your routine for it to occur.
Even still, accidents can occur at any given time to people of all ages, backgrounds, what have you, and the severity of the situation will vary depending on the circumstances surrounding it. For some, this involves a completely dislodged tooth, whereas others may experience nothing more than a cosmetic chip or crack. Bear in mind, however, that even the simplest of blemishes can significantly alter a smile.
As such, our team is dedicated to helping you seek treatment that not only addresses the overarching concern but does so in a lifelike and seamless manner. To learn more about this process and how our team can help, give us a call today.
Addressing Noticeable Discrepancies
The truth is, surface-level concerns span a wide variety of situations. For instance, the coffee you drink may contribute to stains, a physical accident or injury can cause a tooth to chip or crack, or perhaps your teeth developed in such a manner that a gap between two structures formed.
Though there exist treatments that can address one single area or another, nothing is more versatile than porcelain veneers. Contact our team to schedule your next appointment and learn more.
Enhancing Your Smile's Appearance
Porcelain veneers consist of razor-thin shells of dental porcelain that are applied to the front of your teeth. The material is chosen for its uncanny resemblance to natural teeth, and can even enhance your smile's appearance by brightening your shine significantly. Indeed, in cases where you only need one or a few teeth addressed, we can shade-match the veneer to the hue of your smile in order to provide a seamless appearance.
Schedule Your Visit
Contact Dreem Dentistry in Leawood, KS by calling 913-681-5500 to learn more about the benefits of custom porcelain veneers, and schedule your next appointment with our team today.