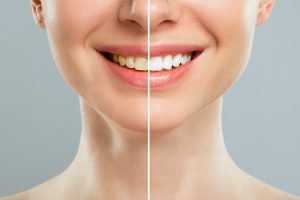 It goes without saying that the biggest fear people have when it comes to their oral health is the possibility of losing a natural tooth. Indeed, an effective preventive dental routine is often enough to keep infection at bay, but falling short in any one area of the process could be all it takes to welcome bacteria and other threats. What's more? The same could also be said for noticeable stains or blemishes in your smile, and even though they might not be affecting your health, they definitely affect your smile's appearance. In today's blog, your Leawood, KS dentist takes a look at the benefits of in-office teeth whitening, and how it can enhance your grin in as little as a single visit.
The Effects of Certain Substances
Just as oral bacteria are always present and always threatening your oral health, there are habits that you may take part in that influence your health as well. For example, we all are aware that tobacco use causes your teeth to develop a yellow or brown hue, but did you know that some of the foods and beverages you consume can also have a negative effect?
Indeed, foods such as coffee and tea contain pigments that actively stain your teeth, causing them to take on a more dull or dark appearance. Further, items with high levels of acidity – such as berries, citrus, and other items – can actively eat away at the protective layer of enamel surrounding your teeth and cause stains to become even more deep-set. To learn more about this process and what your options might be, give our team a call today.
Professional Teeth Cleaning
Though smile stains and other cosmetic issues are hardly a major concern for your oral health, that does not mean that they should be left untreated. You see, many patients place a great emphasis on the appearance of their teeth, and as such, a minor stain or even a gap can cause a person to experience a significant dip in self-confidence. In order to address this concern, our team provides effective professional cleaning to remove even the toughest stains. Reach out to our team today to learn more about the cosmetic benefits of teeth whitening.
A Brighter Finish
When you come in for your teeth-whitening treatment, our team will apply a strong but safe bleaching agent to the surfaces of your teeth, then activate the material using a special light. As this occurs, the gel will begin to foam and start breaking apart those difficult blemishes. Further, you will begin to notice a difference of up to several shades by the time you leave to go home.
Learn More Today
For more information about the cosmetic benefits of enhancing your smile's shine, contact Dreem Dentistry in Leawood, KS by calling 913-681-5500 and schedule your next appointment with our team.