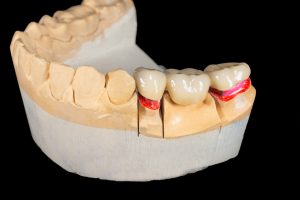 Taking care of your smile is a process that you will practice for life, as the oral bacteria and other sources of potential harm never cease attacking. Indeed, from the moment you are born and well into adulthood, these concerns continue to pose a threat to the integrity of your smile. For some, infection may spread and set in faster than expected, and before they know it, they are having to make difficult decisions about removal and replacement. In today's blog, your Leawood, KS dentist discusses the need for tooth replacement, and how we offer a few different options depending on your needs.
The Need for Extraction
It goes without saying that nobody's first choice is to lose a permanent tooth, especially since it will not grow back on its own. Indeed, the fear of having to sport a noticeable gap in their grin is enough to encourage people to practice consistent at-home preventive care, but sometimes quality may be lacking. For instance, forgetting to brush one morning because you are running late for work, or choosing not to floss because it "isn't that important" may be all it takes to invite a host of oral health concerns in.
In cases such as the ones mentioned above, your rate of developing tooth decay and other infections increases drastically. As such, patients who do not seek active care in routine checkups may experience a faster rate of decay. What's more? When the issue spreads past a certain extent, a tooth will be considered compromised, and your next best bet is to have the structure removed through dental extraction. For more information about this process and what your options are, give our team a call today.
An Implant's Effect on Function
Once a compromised tooth has been removed, however, that does not mean the infection itself is gone. As a matter of fact, patients that lose one or more teeth to infection experience an increased risk of losing more adjacent structures to the same infection. This is because oral bacteria thrive in the difficult-to-clean areas of the mouth, and a sensitive gum pocket is an ideal place to set up camp. As such, your dentist recommends seeking a replacement tooth sooner rather than later, and dental implants can help.
Addressing Multiple Missing Teeth
Because you experience an increased chance of tooth loss once one structure becomes compromised, it only makes sense that there are solutions to address varying degrees of tooth loss. Our team offers replacements in terms of a single dental implant or even an implant-secured dental bridge restoration, and we will work with you to provide optimal treatment.
Learn More Today
To learn more about the need to replace lost teeth, contact Dreem Dentistry in Leawood, KS by calling 913-681-5500 to schedule your next appointment with our team today.