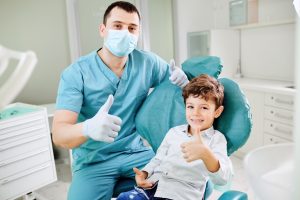 Ensuring your teeth are clean, protected, and overall healthy is a much more involved process than many people are led to believe. As a matter of fact, brushing by itself is not enough to fend of the myriad of oral threats and bacteria that come into contact with your smile every day, and sooner or later, infection will set in. Because of this, it is important to maintain a well-rounded preventive dental routine, and our team can provide the resources to help. In today's blog, your Leawood, KS dentist explores the important role of children's dentistry, and why it is important to start early.
A Lifetime of Threats
From the moment you are born and well into adulthood, bacteria and other microorganisms are constantly coming into contact with your grin. What's more? This can be accomplished through a variety of different avenues, including failing to brush or floss, physical accidents, consuming substances that weaken your structures, and recreational use of tobacco products and alcohol.
Indeed, it is important to remember that your smile is constantly on the defensive from these concerns, and there are far more negative influences than there are positive ones. Because of this, it is recommended you practice an involved preventive routine. This often consists of brushing twice a day, flossing at least once a day, paying attention to the possible effects of some foods and beverages, and of course, attending routine checkups and cleanings.
Additionally, our team wants you to know it is never too early to begin the preventive process with your little one, and as a matter of fact, the sooner you start, the better! We recommend you bring your child in for his or her first checkup by the sight of the first tooth or by the first birthday, whichever comes first.
Making it a Habit
It goes without saying that the more you practice a routine, the more likely it is to become a habit. The same can be said about tiny grins, and consistent practice can teach your children the value and importance of a healthy smile. What's more? Children tend to mimic their parents' behaviors, so showing your children that you are excited for and care about your oral health will ideally encourage them to feel the same about their own teeth.
Additional Treatment
The unique thing about children's dentistry is that additional treatment and cushion is built in! In other words, we recognize that your children's smiles are still developing, and every once-in-a-while, they could use a helping hand in the form of a dental sealant or fluoride treatment. Make sure to ask our team about your options the next time you visit.
Learn More Today
Contact Dreem Dentistry in Leawood, KS by calling 913-681-5500 to learn about our special offers and children's dental treatments, and make sure to schedule your family's next visit with our team today.