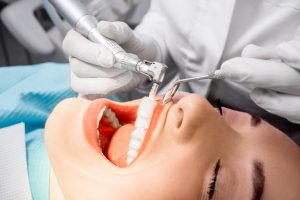 Taking care of your smile is imperative to not only your oral health, but your physical health as well. Indeed, your teeth serve many more purposes than just to complete your smile, and losing as little as a single structure can significantly influence your function, jawbone strength, and more. To combat this, your dentist recommends a well-rounded preventive routine with an emphasis on attending your routine checkups and cleanings. In today's blog, your Leawood, KS dentist explains the important role of your dental cleaning, and why you should visit our team once every six months.
Plaque and Tartar Removal
Routine preventive dental care is the crux of a lifelong, healthy smile. After all, you are constantly fending off a barrage of threats every single day, and prevention is the number one way to prioritize your oral health. This process consists of brushing your teeth at least twice a day, flossing at least once every day, being aware of the negative effects some foods and beverages have on your teeth, and of course, attending necessary preventive visits.
Due to the fact that oral threats such as bacteria or infection are constantly attacking your smile, a consistent routine is the best option. What's more? Patients could benefit from a professional checkup and cleaning, as it allows our team to take a closer look at potential concerns you may not be able to catch on your own. For this reason, we recommend visiting our team once every six months in order to prevent minor concerns from developing into major ones. For more information about this process, reach out to our team today.
Polishing Your Teeth
Though your checkup is necessary for assessing your smile's status, your cleaning plays an important role in removing deposits of plaque and tartar that may have nestled between teeth over time. Indeed, your preventive routine may be thoroughly adhered to, but sometimes plaque can make its way into places you would not be able to access on your own.
After removing these dangerous deposits, our team takes care to polish your teeth so that they are not only squeaky-clean, but so that oral bacteria have a more difficult time latching on and wreaking havoc. To learn more about this process, contact our team today.
Ask About a Boost in Strength
Though an involved routine can work wonders for your smile, sometimes patients require an additional boost of strength. One option we provide includes a fluoride treatment, in which fluoride gel is applied to the surfaces of your teeth. You see, fluoride is a mineral that strengthens your enamel, thus strengthening your smile.
Learn More Today
To learn more about the need for professional teeth cleanings or to schedule your next appointment with our team, contact Dreem Dentistry in Leawood, KS by calling 913-681-5500 today.