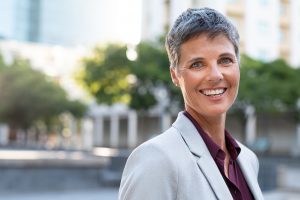 Are you beginning to worry that there is nothing you can do to prevent or remove teeth stains? The accumulation of particles that hurt the color of our enamel can lead to embarrassment. While different toothpastes offer to whiten your smile, and different whitening products are available on store shelves, you can find it hard to make your smile the color that you prefer. At our Leawood, KS dentist's office, we can offer better results through cosmetic treatment! You can choose to come into our office for a one-day treatment, or you can take home a personalized kit to fight teeth stains at your convenience.
Are You Tired Of Feeling Embarrassed By Dull, Discolored Teeth?
Gradual changes in your smile color can make you concerned about your overall appearance. Stains can make our teeth appear older, create an impression of poor oral health, and generally make you unhappy with your smile. Teeth whitening products available at your local grocery store or pharmacy can have some benefits, but it can be difficult to produce the results that you really want. Fortunately, there are professional cosmetic dental procedures that can help patients make positive, lasting changes.
You Can Decide Which Teeth Whitening Approach Works For You
We provide two different approaches to professional teeth whitening treatment:
For patients who want to see their results as soon as possible, we can offer an in-office procedure to fight accumulated teeth stains. After one appointment, you can see remarkable changes that give you a more youthful and attractive look! Our office uses a special light to activate the effects of bleaching gels and produce faster results.
If you want to take care of discoloration at your convenience, you can take home a whitening kit that is customized for your use. The kits includes custom-made trays and syringes that help with the even application of bleaching agents. Over the course of your daily applications, you can see exciting improvements!
Discussing Other Cosmetic Procedures With Your Dentist
Does teeth whitening treatment always help patients bothered by discoloration? In some cases, it can be beneficial to look at other cosmetic treatments. These other services help deal with intrinsic discoloration, which occurs when your tooth structure changes in ways that will hurt the color of your smile. Your options include treatment with porcelain veneers and tooth bonding services. Both can offer additional benefits, such as a change to improve the shape and size of teeth that stand out for the wrong reasons.
Talk To Dreem Dentistry About Your Interest In Teeth Whitening Treatment
Our practice is ready to help you take care of embarrassing dental discoloration! The right procedure can be easier to access than you expect, and it can deliver lasting improvements. If you would like to find out more, contact Dreem Dentistry in Leawood, KS at 913-681-5500 to learn more!