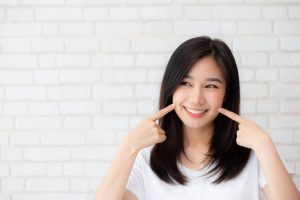 Nothing is more disgruntling than doing everything right when it comes to taking care of your smile, just to experience a cosmetic blemish from a random accident. What's more? Practices that you might not have initially though would tarnish your smile can actually cause significant damage or even noticeable discrepancies such as stains. While your health is of the utmost priority, that does not mean that your appearance needs to suffer. In today's blog, your Leawood, KS dentist will take a look at the way your diet may impact the appearance of your teeth, and how cosmetic whitening can brighten your grin in a single visit.
Your Diet's Impact
While you may be aware that sugar can rot your teeth, there are other instances in which your diet causes damage, too. Indeed, dentists and candy have had a feud since the beginning of time, as sugars cause oral bacteria to produce a dangerous and destructive acid that actively wears down your structures. Though candy is certainly to be consumed in minimal amounts, it is far from the only food that impacts your grin.
For many adults, their day cannot begin without that morning cup of coffee. While it does an excellent job providing a much-needed boost of energy, it also contains staining pigments that actively dull your teeth's shine and weakens their surfaces.
In addition to coffee, fruits that contain high acidity and staining pigments can cause stains to develop as well. For instance, the juices from blackberries and blueberries can seep into the weakened enamel on the surface of your teeth, and without proper care, they can remain permanently. For more information about this process, reach out to our team today.
Removing Difficult Blemishes
Although a number of stains can be lifted with consistent preventive care, some may become deep-set and will require additional treatment to remove. Indeed, because our smiles endure a significant amount of wear and tear over the courses of our lives, it is only natural that most adults can benefit from dental whitening.
Having your teeth professionally whitened consists of coming into our office and having our team apply a strong but safe bleaching gel to the surfaces of your structures. This material is then activated with a special light, and it sets to work breaking apart and lifting stains.
It Only Takes One Visit
Arguably one of the best benefits that arises from teeth-whitening is its ability to be completed in as little as a single visit. The gel will lift away difficult stains, and you will begin to notice a different of up to several shades brighter by the time you leave your visit.
Learn More Today
Contact Dreem Dentistry in Leawood, KS by calling 913-681-5500 to learn more about the benefits of dental whitening, or schedule your next appointment with our team today.