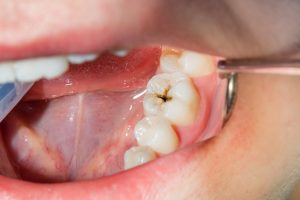 Taking care of your smile is not checking off a few tick boxes, but rather, a lifelong practice of preventive dental care. This often includes a steady combination of attending routine checkups, brushing and flossing at home, and being careful about what you eat. Only when you acknowledge that many facets of your dental health must be included in this routine can you achieve a healthy smile for life. Still, sometimes bacteria and other concerns have different plans for your grin. In today's blog, your Leawood, KS dentist takes a look at the common issue of dental decay, and how what to expect from your filling treatment.
A Change in Your Bite
Dental decay and infection are among the most common oral health concern out there, affecting millions of people annually. It can be quite difficult to identify on your own in its earlier stages, but before long, you may begin to experience a number of complications. For instance, sensitive teeth, toothaches or pains, and difficulty in function are all signs that you may have a bigger concern on your hands.
When dealing with a cavity, your dentist will recommend the help of a composite dental filling. The process involves removing the infected or decaying portions of a tooth, then filling the open gap with a composite resin material that is then cured with a special light.
Following your dental filling, you will begin to notice a few changes to its function. For starters, you will be able to physically feel the impact a filling has on your bite. Indeed, when decay takes hold of your teeth, the result is subsequent wearing down of certain areas, and your bite falls into a sort of rut. When the infection is removed and the hole filled, you will feel a difference in a tooth's elevation. Fortunately, this is nothing to worry about.
The Healing Process
Another aspect that you can expect from receiving one or more dental fillings is recovery time. After all, your treatment involves removing the damaged portions of your structures and subsequently filling those open spaces. In other words, it makes sense that you may experience some light sensitivity during the first week after your treatment. To learn more about the process, reach out to our team today.
Don't Neglect Preventive Care
Finally, just because your fillings affect your bite and will take time for you to get used to them, that does not mean that your preventive routine should take a backseat in the process. Indeed, you may feel the need to brush more gently due to your smile's sensitive nature, but rest assured that your fillings are sturdy.
Schedule Your Appointment
To learn more about the restorative dental process or to schedule your next appointment with our team, contact Dreem Dentistry in Leawood, KS by calling 913-681-5500 today.