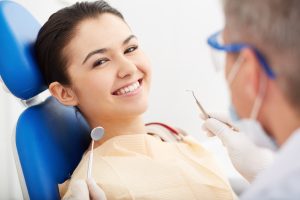 From a young age, you are often told about the necessity of brushing your teeth. Indeed, you were told how cavities and other concerns could cause your teeth to rot, and without proper care, they could lead to permanent tooth loss. While nobody wants to lose a natural structure, sometimes a person must make the difficult decision to have one extracted if it means preserving their overall oral health. In today's blog, your Leawood, KS dentist explains the importance of a well-rounded preventive routine, and how checkups serve an important purpose.
Presenting Your Best Options
Brushing your teeth is a staple of excellent oral hygiene. As a matter of fact, your dentist recommends you brush at least twice a day to ensure your health. This is because bacteria-laden plaque develops at a rapid rate, and missing your morning or evening routine will only exacerbate the issue.
While brushing is essential to an excellent routine, it is important to note that it is not the only contributing factor to a lifelong grin. In fact, it represents only part of the picture. You see, caring for your smile daily lays the groundwork needed to prioritize your grin, but it is crucial not to forget how important your checkup is in the grand scheme of things.
Staying on top of your smile's health seems simple enough if you follow a routine at home, but what can you do about the early stages of many concerns? Indeed, it is difficult to perform a self-examination, as experience and proper equipment are both necessary. What's more? Knowing what to look for is another hurdle. In order to ensure you are pursuing your best options, make sure to schedule your routine checkup once every six months.
Identifying Concerns Early On
Another major function of your dental examination is to be able to identify the early signs of complications and prevent them from turning into major issues. Indeed, this process has your dentist checking all aspects that contribute to your oral health. These include your teeth, tongue, gums, lips, cheeks, and throat.
Unlike a headache or upset stomach, a dental concern will not get better with time. As a matter of fact, it will continue to get worse until it has compromised your entire smile. Because of this, your preventive visits are an important appointment to attend.
Removing Troubling Plaque
Finally, your routine checkup is not complete without a safe but thorough cleaning. You see, as plaque develops on your teeth and you proceed to brush, there are small bits that become lodged in-between structures and may not be as easy to remove. As they persist, they can develop into tartar deposits that calcify, thus providing an even more difficult removal process. With professional cleaning, however, we can get those pesky build-ups.
Schedule Your Visit
Contact Dreem Dentistry in Leawood, KS by calling 913-681-5500 to learn more about the steps you can take to up your preventive game, or schedule your next appointment with our team today.