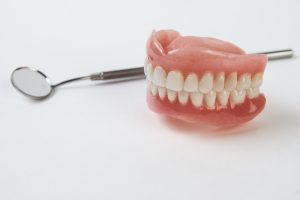 Losing a tooth is the last thing you want. While preventative care is crucial to maintaining a healthy smile, tooth loss is sometimes out of your control. Whether you suffer an injury to your mouth or you're affected by a genetic issue, missing a tooth is stressful and can hinder lots of basic functions like chewing and eating. Moreover, it can hurt your self-image. Luckily, there are solutions. Depending on the placement and number of missing teeth, your dentist can provide a bridge or denture. In today's blog, your Leawood, KS dentist talks about the difference between the two and describes which best suits your needs.
What Is A Dental Bridge?
A dental bridge is a permanent prosthetic appliance that is typically made from ceramic or porcelain. It fits between the teeth on either side of your missing one and is usually supported by crowns placed on existing teeth — though dental implants can also serve as supports. The prosthetic tooth, or "pontic," is matched to fit the color of your natural teeth, so it fully blends in and is indistinguishable from your others. Ultimately, this prosthetic is used when you are either missing a single tooth or a few directly next to one another. 
When Do I Need Dentures?
While a bridge is a solution to replacing either a single missing tooth or adjacent ones, dentures can fit around teeth that are still present, even if they are not adjacent. Dentures can be full or partial, meaning they can be a good option for a variety of scenarios. They can even replace a full row of missing teeth. Like bridges, dentures are color-matched to your teeth and gums, so they are not noticeable. An important difference between the two restorations is that dentures can typically be removed while bridges are permanent. You could opt for a prosthetic secured with dental implants for a more permanent appliance. This also allows it to perform vital functions, like stimulating your jaw when you bite and chew. Depending on your needs, your dentist will help you determine which is the best option for you.
What Does Maintenance Consist Of?
If you have a bridge, you'll treat it like you do your natural teeth. Brush it and floss your mouth as you normally would. Remember, it is created with materials that are made to closely resemble your teeth, so caring for it should be relatively seamless. It is still important to practice preventative care and schedule cleanings and checkups every six months. Dentures, on the other hand, require more specific care. You should still brush them, but you also need to make sure they don't dry out. When they are not in your mouth, keep them in a cleansing solution or in plain water. Once you have either appliance placed, your dentist will give you instructions to keep them clean.
Have Questions About Solutions For Missing Teeth?
To find out more about the process of addressing your tooth loss with a prosthetic or implant, then contact Dreem Dentistry in Leawood, KS by calling 913-681-5500. You can also find us at 4839 W 135th St. Leawood, KS 66224.