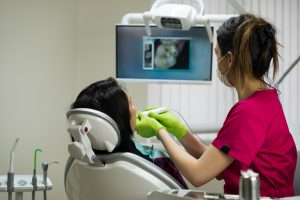 It goes without saying nobody wants their smile plagued with noticeable blemishes such as chips and stains. What's more? Worrying about your oral health can be much more intensive than you expect, as there are countless threats out there that can negatively impact your smile's integrity. Fortunately, dental practices that range from preventive to restorative and even cosmetic can aid your health tremendously. But how exactly does this occur? In today's blog, your Leawood, KS dentist will explore the importance of advanced practices and dental technology, as well as the role they play in keeping your smile healthy for life.
Starting Off with Digital X-Rays
When you attend your routine preventive checkup, we do more than just search for cavities. In fact, we take care to examine every aspect of your oral health so that we can ensure everything is as it should be. In the event a concern arises, we are able to help guide you in the right direction so that your smile can flourish for a long time.
At the beginning of your visit, we take care to take digital x-rays of your grin. This not only helps us take a look at the harder-to-examine areas of the mouth, but it also helps identify potential fractures or other concerns that may not be detectable by the naked eye.
What's more? Your x-rays help direct our attention to potential problem areas so that we have a general idea of what concerns you may be facing. In order to learn more about this process and what role it serves, reach out to our team today.
Intraoral Camera for Enhanced Care
Another helpful role our dental technology serves is to more accurately help diagnose concerns and identify their precise location. You see, when performing oral surgery, the further back your concerns are, the more difficult it is to address them with ideal accuracy.
Technology such as an intraoral camera help provide sight on areas that were previously unable to be detected, thus enhancing the overall quality of care you receive. What's more? This helps us more accurately identify and address your oral health issues so that you can have a better chance of maintaining a healthy smile for much longer. For more information about this process, reach out to our team today.
Ideal Restorations with 3D Cone Beam Imaging
For individuals that seek restorative treatment such as custom crowns or replacement teeth, 3D Cone Beam Imaging helps our team to better meet your needs. In fact, our technology helps enhance precision and increases our ability to provide near-seamless solutions for your dental matters.
Learn More Today
Contact Dreem Dentistry in Leawood, KS by calling 913-681-5500 to learn more about how our dental technology can help yield enhanced quality and results or schedule your next appointment with our team today.