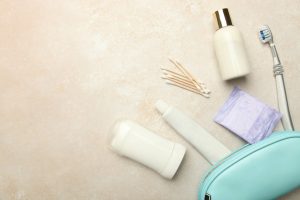 Now that school has let out and everyone is free for the summer, many families are planning vacations all around the country. Indeed, this past year and a half's events have been enough to drive many mad, and a nice relaxing break is just what people need. Bear in mind, however, that just because you are on vacation, that does not mean your oral health is. In today's blog, your Leawood, KS dentist shares a few important tips and tricks to keep in mind to ensure your smile's health as you prepare for your break.
Schedule an Appointment Before Leaving
Whether you are aware of it or not, your preventive dental routine plays a much bigger role in your smile's health than people give it credit for. In fact, a well-rounded routine ensures that you are brushing and flossing at home, paying mind to the effects of the foods and beverages you consume, and attending your six-month checkup and cleaning.
A major piece of advice we like to give our patients before they head off on vacation is to schedule your next appointment shortly before leaving. This will help ensure your smile is happy and healthy so that you can enjoy your trip without fear or anxiety.
What's more? We also recommend bringing our contact information with you in the event of an emergency. Our team is ready to help you out, even in times of crisis, and we can connect you with offices near where you are staying in the event of an emergency. To learn more about this process, reach out to our team today.
Don't Forget Your Toothbrush!
Nothing is more troubling than getting everything packed away just for you to find out you forgot your toothbrush at home. When this occurs, our team recommends stopping by your local drugstore, if possible, to get a temporary one.
In the event that you are vacationing in an area that does not have a nearby store, you can use a wash cloth or your finger to move the toothpaste around your teeth. Make sure to rinse vigorously with water as well!
Proper Storage and Care
Bacteria are present in every smile, and it is up to you to ensure they are prevented from wreaking havoc on your grin. What you might not know, however, is that leaving your wet toothbrush in a dirty bag can cause more bacteria to develop and hide in the bristles. To avoid this phenomenon from occurring, we recommend taking care to let your brush air dry and storing it in a place away from factors that could lead to bacteria and infection.
Learn More Today
Contact Dreem Dentistry in Leawood, KS by calling 913-681-5500 to learn more about the tips and tricks you can take to take care of your smile while on vacation, or schedule your next visit with us.