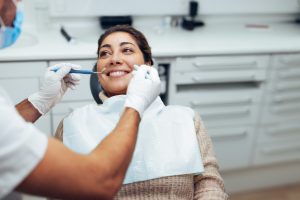 Whether you're consciously aware of it or not, your smile endures a significant amount of wear and tear over the years. In fact, almost everything can impact your grin in one way or another, and most of the time, it is for worse. Because of this, an excellent dental care routine is necessary for maintaining a lifelong grin, including brushing and flossing at home as well as attending routine checkups. In today's blog, your Leawood, KS dentist discusses the importance of your six-month checkup, and how it helps identify minor concerns and prevent them from becoming a bigger issue.
A Professional Examination
Contrary to popular belief, your dental examination is much more than just a cavity hunt. Indeed, your oral cavity is comprised of everything contained within it, meaning that your teeth are not the only things to worry about. This also means that each of these aspects must be carefully inspected and checked on.
When you come in for your dental checkup, our team will take care to check your teeth, gums, tongue, lips, cheeks, the floor of the mouth, the roof of the mouth, and even your throat for any signs of threat or complication. This entails checking for signs of infection, decay, damage, trauma, and more.
During your examination, our team can also provide an oral cancer screening to ensure that your tissues and other oral structures are healthy and taken care of. Believe it or not, nobody is immune to the effects of oral cancer, and it can impact people of all ages at any time. To learn more about this process, reach out to our team today.
Informed Care
Another major purpose that accompanies your checkup is to help provide informed care to our patients. This means providing a professional examination and sharing insights on how you can improve your routine if need be.
The last thing your dentist wants is for you to lose a natural tooth, and a lot of the time, time is not on your side. In fact, the longer you wait to seek treatment, the more likely you are to experience increased damage and potential complications. To learn more about this process, reach out to our team today.
Protecting Your Teeth
During your checkup, our team also provides a cleaning to help remove plaque or tartar buildup from in-between teeth. This bacteria-laden substance can accumulate right along the gum line and in-between structures, and sometimes brushing cannot help.
Attending routine visits is a necessary step of your preventive care routine, and failing to attend yours can significantly impact your health.
Schedule Your Checkup
Contact Dreem Dentistry in Leawood, KS by calling 913-681-5500 to learn more about the benefits of your preventive dental routine, or schedule your next appointment today.