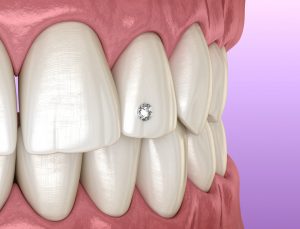 It goes without saying that your oral health is of the utmost priority when it comes to taking care of your smile. After all, there are so many influencers that impact the integrity and quality of your teeth, and it only takes falling short in one category for decay and other issues to settle in. Though this is true, this does not negate the fact that you want to feel confident in your appearance and love the smile you flaunt. In today's blog, your Leawood, KS dentist takes a look at ways you can set your smile apart from others, and how Twinkles® tooth jewelry can give your grin an extra sparkle.
A Step Above the Rest
Great value is placed on a smile's appearance in many parts of the world. After all, it is one of the first physical attributes a person notices about another, and a healthy smile often embodies great confidence. Indeed, our office believes in the importance of loving the skin you are in, and a great set of teeth is part of that.
To help set your smile a step above the rest, our team offers Twinkles® tooth jewelry to give your look an extra sparkle. This process consists of state-of-the-art crystals that are encased in gold, and they can be applied to your teeth simply and effectively through bonding.
What's more? When you want them removed, our team can do so quickly and safely without leaving any signs or traces of marks on your teeth. In other words, they are not a permanent procedure, and you can rest assured that your smile is in great hands. For more information about this process, reach out to our team today.
Summer Deals
For some individuals, the idea of updating their sparkle is one to be desired, though obstacles and other hurdles may have gotten in the way. Fortunately, we are offering a cosmetic special that might interest you.
If you have always been interested in setting your grin above the rest with the help of Twinkles® tooth jewelry, our team is offering a summer deal for patients like you! Throughout the month of June, our office is offering a 25% off special for Twinkles® tooth gems, both large and small. To learn more about this promotional offer, reach out to our team today.
Optimize Your Smile
A beautiful smile can go a long way, and there are a number of different cosmetic dental options out there to help enhance its beauty. The next time you come in for your routine visit, ask our team about your options.
Learn More Today
Contact Dreem Dentistry in Leawood, KS by calling 913-681-5500 to schedule your next appointment with our team and learn more about the benefits of enhancing your smile with Twinkles® tooth jewelry.