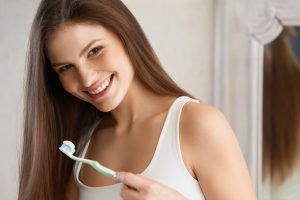 From the hectic hustle and bustle of a busy schedule to making time to take care of yourself, finding a moment to prioritize your oral health can be difficult. Indeed, it can be appealing to cancel one engagement or another so that you can have some time for yourself, but it is crucial to understand what should take a backseat and what shouldn't. In today's blog, your Leawood, KS dentist explains why it is crucial to attend your routine dental appointments, as well as what steps you can take to manage your smile at home.
Attending Routine Examinations
While your parents may have taught you the importance of brushing your teeth every day, routine checkups are still important to attend for a number of reasons. Indeed, you might think you can get away with sipping an appointment every now and then, but the truth of the matter is that they are scheduled in such a way to ensure your smile is protected.
When you attend your routine dental visit, our team will take the time to thoroughly examine your smile. This is more than just a hunt for cavities, and is actually imperative to ensuring proper health. We begin by examining all aspects of your oral cavity for signs of damage, trauma, infection, and any other concern or potential concern.
Following your exam, we will provide a gentle cleaning to remove deposits of bacteria-laden plaque and tartar from your grin. Plaque develops as the day goes on, and sometimes deposits can settle deep into crevices between teeth, which is why it is important to clean them. To learn more about this process or to schedule your appointment with our team, contact our office today.
Flossing and Brushing at Home
In addition to attending your routine checkup, a major tenet of a well-rounded preventive dental routine includes properly brushing and flossing at home. You see, brushing helps to remove the deposits of plaque that develop on your teeth throughout the day, whereas flossing removes food particles that are lodged in-between teeth. These particles attract oral bacteria that then can cause significant periodontal concerns.
Staying on top of your oral health is a consistent process, and letting any area of it fall short could be enough to cause significant complications down the line. Ask your dentist about additional steps you can take to take care of your smile today.
Your Diet Matters
Whether you are aware of it or not, your diet can impact your smile's strength as well. In fact, certain foods and beverages lead to weakened enamel and even stains. Because of this, our team recommends keeping a close eye on the dangers of certain food items.
Learn More Today
Contact Dreem Dentistry in Leawood, KS by calling 913-681-5500 to learn more or schedule your next appointment with our team today.