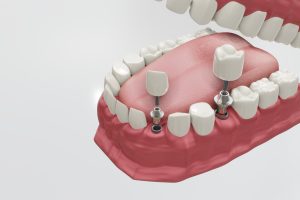 As an adult, there is hardly much worse for your oral health than losing a natural tooth. After all, your teeth influence your smile's appearance, function, and even your jaw structure, which means losing as little as a single structure can cause significant complications to your health. While there are a number of restorative dental treatments aimed at mitigating the damages of decay and other infections, sometimes the concern progresses at a much more rapid rate than you might expect. In today's blog, your Leawood, KS dentist discusses what steps you can take to restore your smile's bite after losing one or more structures, as well as how dental implants yield lifelike results.
The Reality of Adult Tooth Loss
While losing teeth as an adult might seem like a concept that could not happen to you, you might want to think again. In fact, the number of factors that negatively influence your grin's health is much faster than one might expect, meaning pretty much everything can be bad for your smile.
One of the most common oral health concerns out there involves dental decay, a process in which oral bacteria eat away at your tooth's natural structure. While the concern may appear minor at first, such as the development of a small cavity, it will continue to get worse as time moves on.
Without proper treatment, decay can progress from a surface-level issue to one that targets your inner nerves and pulp. From here, the infection can eat away until it has compromised your tooth, and your only option left will be dental extraction. To learn more about this process, reach out to our team today.
Why You Need a Replacement
Though you may believe that your problems are over once a tooth falls out, in reality, it has only just begun. You see, a missing tooth can cause a significant impact on your oral function, as your teeth will no longer be able to evenly support the pressure of your bite.
What's more? Your roots help stabilize and stimulate your jaw bone, meaning once one is missing, there is nothing left to keep that portion of bone strong and degradation may result. For more information about this process, contact our team.
Enjoying a Seamless Smile
To avoid these and other complications or concerns that may arise from missing teeth, your dentist may recommend the help of a dental implant and restoration. This process consists of inserting a biocompatible post into the jaw and securing a lifelike crown restoration to the top.
A major benefit that accompanies implant dentistry is the ability to shade-match the custom crown to your grin. This helps to provide a lifelike appearance as well as help you enjoy your grin.
Schedule Your Visit
Contact Dreem Dentistry in Leawood, KS by calling 913-681-5500 to schedule your next appointment with our team, or to learn more about the benefits of implant dentistry.