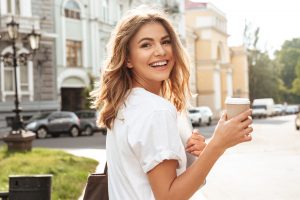 It is one thing to have a healthy and protected smile, but it is a whole other thing to love your grin and feel comfortable in your own skin. Indeed, health is always going to be of the utmost importance, but that is no excuse to let your teeth' appearance take a backseat. In fact, cosmetic dental treatment can actually serve a number of purposes while addressing a variety of concerns. The best part is that most treatments only take a few visits! In today's blog, your Leawood, KS dentist will take a look at three purposes cosmetic dentistry serves, and how you can become one step closer to a gorgeous shine.
Enhancing Your Smile's Vibrancy
One of the major detriments to an otherwise perfect smile is a noticeable or deep-set stain. Throughout our lives, our teeth are subject to a series of circumstances that lead to noticeable wear and tear, and stains just so happen to be one of the major offenders. In fact, there is a long list of items that can stain your structures, including coffee, tea, berries, and more. Additionally, habits such as tobacco use and alcohol consumption can cause your smile to lose its natural shine and take on a dull yellow or brown appearance.
Because most adults experience many of these factors, it goes without saying that many could benefit from dental whitening. Fortunately, the process of receiving such treatment is simple, and can be completed in as little as a single visit! Reach out to our team today to learn more about your options.
Addressing Noticeable Blemishes
Another issue that may arise involves surface-level cracks and chips. As your teeth become weaker, chips and cracks become more of a possibility. Additionally, situations such as dental emergencies or physical injury can also cause a crack or chip to arise, tarnishing your smile's appearance.
One option you can pursue includes bonding and contouring treatment. This process allows our team to apply a composite dental resin to the affected areas that are then bonded to your teeth. We contour, or shape, the material so as to provide a lifelike and seamless appearance, then we cure it with a special light. Then voila! You can enjoy a stunning grin once more.
Establish Symmetry
Arguably one of the most versatile of the cosmetic dental options, porcelain veneers can be constructed and bonded to the surfaces of your teeth to address any of the concerns mentioned above, as well as naturally occurring gaps. In fact, the lifelike porcelain shells can help bridge the noticeable gaps to help reestablish a symmetrical grin.
Schedule Your Appointment
Your smile's health is extremely important, but you should love how you feel in it as well. Contact Dreem Dentistry in Leawood, KS by calling 913-681-5500 to learn more about your cosmetic options or to schedule your appointment with our team today.