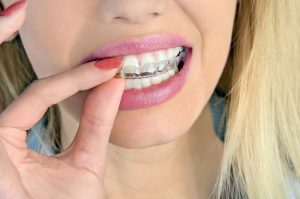 Cosmetic dentistry is more than just mending a few noticeable blemishes. It involves enhancing your smile's appearance while boosting your confidence so that you can feel great in your own skin. Indeed, cosmetic treatment has a variety of benefits that dabble in the realm of function as well as looks, and many individuals can benefit from treatment during their adult lives. In today's blog, your Leawood, KS dentist explores the way that Invisalign® invisible aligners straighten your teeth while providing a number of health benefits throughout the process.
Why Alignment Matters
On the surface, a straight smile may be a goal that many strive to achieve in order to enhance their overall appearance. When we take a look a little deeper, however, we can see that crooked teeth actually impact your oral health in a number of ways. When structures develop at incorrect angles, it can lead to crowding and overlap. What's more, sub-optimal development can result in less secure positions, meaning that you may experience a higher chance of teeth becoming loose on their own.
Your periodontal health will be impacted by an uneven bite as well. For instance, as structures crowd and overlap each other, the gum tissues that are intended to protect them will grow in an uneven manner to best accommodate them. This then leads to difficulty keeping your gums and teeth properly cleaned, and subsequently, a higher chance of developing periodontal concerns such as gingivitis down the line. For more information about this process and the other dangers that accompany an uneven bite, reach out to our team.
Not-So-Noticeable Treatment
Because of the reasons mentioned, it is clear that alignment is not purely cosmetic in nature, but a necessity to ensure a healthy grin. Traditional methods for correction involve the use of metal brackets or braces that can be adjusted to correct crooked teeth. However, these are bulky and noticeable treatments that can make eating meals much more of a chore than they need to be.
As an alternative, Invisalign® invisible aligners consist of a clear plastic material that causes your treatment to appear virtually invisible. The guard is created using a series of x-rays and 3D imaging so as to exactly fit your smile. Instead of tightening as braces do, these mouthguards gradually guide your teeth in an optimal position through a series of steps. In other words, once one appliance has run its course, another is constructed to pick up where it left off.
Enjoying a Straight Smile
There are a number of benefits that come from having a straight smile, such as health purposes, structural integrity, function, and of course, appearance. The results are overwhelmingly positive, and you will be on your way to a grin that you love the look and feel of.
Schedule Your Visit
To learn more about correcting your alignment or to schedule your appointment with our team, contact Dreem Dentistry in Leawood, KS by calling 913-681-5500 to learn more today.