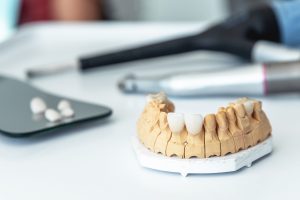 Trying to keep up with your oral health can be much more time-consuming than you might initially think. After all, there are several aspects that make up your health, and there are even more factors out there that aim to bring it down. Indeed, making sure your grin is at its best can be difficult, and noticeable concerns such as stains or chips may not be addressed immediately when other functional concerns exist. In today's blog, your Leawood, KS dentist explains that even though function outweighs appearance, cosmetic dentistry can help you achieve the grin you've always wanted.
Covering Up Noticeable Cracks
It goes without saying that most adults can benefit from cosmetic dentistry at least once in their adult lives. The reasoning behind this is due to the fact that we are constantly fending off multiple threats that can negatively impact our health and appearance. For instance, the cup of coffee you need to kickstart your day contains pigments that actively stain your teeth a darker shade, as do certain fruits and berries. What's more, daily wear and tear can cause your structures to weaken, increasing your chances of developing cracks, chips, and more.
In an ideal world, we would simply avoid the bad things to make sure our smiles remain happy and healthy. Unfortunately, this is much easier said than done, and the true impact of countless factors is on a greater level than most anticipate. Because of this, we rely on dentistry to help restore, protect, and enhance our grins. For more information about this process, reach out to our team today.
Conservative Treatment in a Couple of Visits
Cosmetic dentistry consists of a few different treatment options that can manage your surface-level concerns. For instance, whitening addresses difficult stains, while bonding and contouring can cater to noticeable chips and cracks. For grins that are riddled with an array of blemishes, however, an all-encompassing treatment such as porcelain veneers is the ideal treatment.
Dental veneers consist of ultra-thin shells of dental porcelain that are custom-created to mimic your natural teeth. They are permanently secured to the surface of your structures with dental cement, and with proper care, offer an enhanced smile for life. Reach out to our team to learn more about this process.
A Lifelike Material
One of the major benefits that arise with veneers is their highly lifelike material. Indeed, dental porcelain is utilized for its ability to mimic the natural appearance of a tooth, even down to the way it appears when the light catches it. This allows you to complete treatment without people noticing the difference!
Schedule Your Visit
Contact Dreem Dentistry in Leawood, KS by calling 913-681-5500 to learn more about the benefits of cosmetic veneers, or to schedule your appointment with our team today.