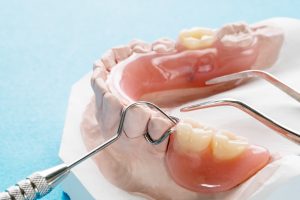 Procedures that were once perceived to be extremely grueling and potentially painful are now made much calmer with the help of sedation dentistry. Indeed, while many do not prefer to lose their natural teeth, sometimes it is necessary in order to preserve one's oral health. In other cases, there is likely no other option. In today's blog, your Leawood, KS dentist takes a look at instances in which partial tooth loss results in a smile riddled with gaps, and how a partial denture can be used to help complete it once more.
Supporting Natural Structure
When it comes to losing natural structures, bear in mind that it is a process. This means that you are unlikely to experience losing all teeth at once. As decay and infection set in, they begin by targeting one or several structures near each other. As it progresses, it jumps to the next healthy tooth to start wreaking havoc, resulting in gaps spanning several spaces within your grin.
The problem arises, however, when several healthy structures remain intact while decay causes complications around them. This brings forth the question of how we can address the loss without extracting or removing the healthy teeth that remain. To best answer this, it takes gaining an understanding of your unique needs. For more information about this process, reach out to our team today.
Addressing Your Unique Needs
As we mentioned above, tooth loss can take many forms, and a full denture simply isn't a one-size-fits-all approach that will suffice. Instead, our team will take the time to properly assess your situation and offer the best course of action to help you regain your oral function. For many, that solution requires none other than a custom partial denture set.
Partial dentures consist of a sort of frame that contains multiple crown restorations. It is designed to fit comfortable over your remaining teeth, with the dental crowns occupying the gaps that are present.
In addition to the ability to complete your smile, partial denture restorations are custom created to closely mimic your natural grin. This includes the shape, texture, and even shade of your teeth. To learn more about this process, contact our team today.
An Implant-Retained Solution
As an alternative to partial dentures, our team also offers implant-retained partials and bridges to help optimize your oral function. You see, your natural roots help your crowns absorb the pressure of your bite without falter. Dental implants act as artificial roots in order to give a more secure connection as well as prioritize the importance of function.
Schedule Your Next Appointment
Contact Dreem Dentistry in Leawood, KS by calling 913-681-5500 to learn more about your restorative dental options or to schedule your visit with our team today.