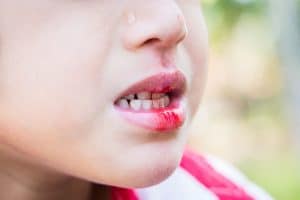 While following a healthy preventive dental care regimen is the number one way to ensure a lifelong smile, the fact of the matter is that sometimes accidents happen. Whether you chip a tooth while eating a crunchy snack or have a mishap that leads a knocked-out structure, time is of the essence when it comes to repairing your tooth and restoring your smile. In today's blog, your Leawood, KS dentist will discuss circumstances in which you may need emergency dental care and what you should do to ensure the best outcome.
What Constitutes an Emergency?
When it comes to taking care of your grin, preventive care is the most important step. In some cases, however, your level of preventive care will not matter, such as cases involving physical injury or trauma to the mouth. What's more, once these circumstances strike, it is important to seek the proper restorative care to repair broken teeth as soon as possible, meaning that oftentimes same-day appointments are needed. But how do you know your concern is an emergency?
Some cases are easy to determine, such as dislodged teeth. Others, however, may not be so clear. When determining the severity of your concern, we consider an emergency to be anything that involves damage to one or more oral structures and/or the tissues that surround them. If you experience a severe sharp pain, for instance, or if a fragment of a tooth breaks off, you should contact our office immediately to have it taken care of.
What Should You Do?
During your dental emergency, the first piece of advice we can provide is to try to remain as calm as possible. We understand that a sense of panic may wash over you depending on the severity of the situation, however, attempting to remain calm can ensure a better outcome when seeking treatment. Additionally, you will want to act with efficiency, as time is of the essence. In other words, it is better to seek help sooner rather than later which will provide a better result. Finally, make sure to have a plan for arriving to our office. If you are in severe shock or pain, having a family member or friend drive you to our office may be best. In the event of a knocked-out tooth, pay mind to gather the structure and gently rinse it under warm water. Pay attention to any nerves or tissues that may be attached so as to disturb them as little as possible. To best preserve it, store it in an air-tight container with salt water or milk and bring it with you to your appointment.
Can Your Tooth Be Saved?
The degree of restoration will depend significantly on the damage that has been done and the steps you take to seek assistance. For more information or to schedule your emergency visit with our team, contact Dreem Dentistry in Leawood, KS by calling 913-681-5500 today.