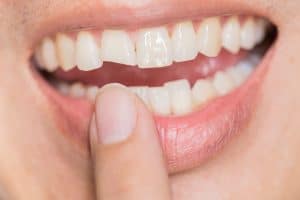 Many individuals endure a form of dental anxiety in which the notion of extensive treatment or excessive structural change bars them from attending necessary visits that keeps up with their oral health. What this also means is that their smiles are even more at risk for infections such as periodontal disease, tooth decay, and loss. For some, the same fear accompanies minor concerns such as a chipped or cracked tooth. In today's blog, your Leawood, KS dentist will address the way that cosmetic dentistry can conservatively address these issues and leave you feeling fulfilled as you are once again able to enjoy a seamless grin.
When the Crack is Minor
When you endure some form of physical injury or trauma to the mouth area, a major concern includes breaking or chipping a tooth. It is true that in some cases the damage done is so significant that some form of restorative dentistry is needed to not only address the damage that has been caused to the nerves and tissues, but the structure itself. In many cases, however, the damage can simply be cosmetic, only affecting the tooth's appearance as opposed to its function or probability for developing disease. In other words, when you experience a minor chip or crack, your dentist can quickly and easily address this matter without the need for invasive techniques.
A Non-invasive Approach
To address minor blemishes in your smile, your dentist may recommend the process of bonding and contouring. This treatment begins with a proper assessment of the situation, in which your dentist will provide your options and how best to proceed. Following this, we will utilize a dental composite resin to either fill the crack in the oral structure or complete a chipped or broken tooth. This process, known as bonding, is followed by shaping the malleable material so as to fill any gaps or open spaces in a process known as contouring. We will also pay close attention to mimic the natural shape and texture of your teeth to ensure a lifelike finish. Once this has been completed, we will harden the material and your treatment will be complete. For more information, contact our team today.
Restoration Without Noticeable Change
One of the major benefits that accompanies cosmetic dentistry is the ability to restore teeth without noticeable changes. In fact, we utilize a tooth-colored composite resin to address the noticeable concern, meaning that we shade-match the material to the rest of your smile. In other words, you will have the ability to enjoy your full and complete smile once more with near-seamless results.
Learn More Today
Don't let your fear of extensive treatment bar you from receiving the lifelong smile you deserve. Contact Dreem Dentistry in Leawood KS by calling 913-681-5500 to learn more about the bonding and contouring process, or schedule your appointment with our team today.