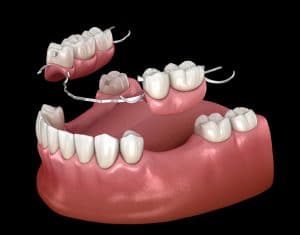 Losing a tooth or multiple teeth as an adult is often not a concern we are actively keeping to the forefront of our minds. In fact, there are often so many things to accomplish in a day that our oral health takes a seat on the back burner, only receiving care in the form of mindless brushing and flossing daily. While this is the first step to a lifelong grin, keep in mind that much more should be done in order to avoid infection, decay, and ultimately loss. In today's blog, your Leawood, KS dentist will look at some solutions to restore your smile after loss, including with partial or full dentures.
The Extent of Your Tooth Loss
The act of the matter when it comes to losing oral structures is that a number of factors contribute to the process, not just staying on top of brushing at home. In fact, it takes a steady combination of preventive care at home, professional care in-office through examinations and cleanings, and even paying close attention to the types of foods and beverages consumed and how it impacts your smile. If even one of these factors falls short, you may be subject to restorative care to help maintain a healthy complexion.
When you do experience losing a tooth to disease, however, it is important to keep in mind the steps you must take to prevent others from becoming compromised as well. In fact, once a structure falls out and you do not take the necessary steps to address the concern, your chances of losing surrounding teeth increases exponentially. When this occurs, your only solution is to seek an implant or other means of replacing your lost structures.
Adhesive or Implant-Retained?
If you are missing all or most of your teeth, chances are, your dentist will recommend extracting what are left and seeking dentures in order to best restore your smile. Here, you will have two primary options to choose from – traditional dentures that are help in place with a special dental adhesive, or implant-retained dentures that are secured to your gums and jaw bone with titanium posts. In the event of only missing a few structures that are not adjacent to one-another, your dentist may recommend the use of a partial.
Benefits and Cons of Both
Each restorative option has its pros and cons, and keep in mind that our team will fully inform you of each option before proceeding forward. For some, traditional dentures are the way to go, while others do not want to endure extraction to make room for them or implants. For more information on the process and to speak with our team, contact our office.
Schedule Your Initial Visit
Your dentist will agree that replacing lost teeth is crucial for a number of reasons, including function, structure, and more. Contact Dreem Dentistry in Leawood, KS by calling 913-681-5500 to find out more about the options you may have and how best to move forward.