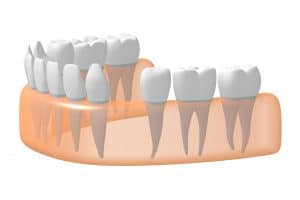 While tooth aches and pains do occur, persistent pain is not a common occurrence and could actually be indicative that there is a bigger issue at hand. In fact, if you allow your pain to continue without remedy, it could actually lead to decay and even tooth loss. You may even need to have the oral structure removed in order to preserve your oral health, a last resort for many individuals. Even after the structure is no longer present, however, you still may be subject to further loss and infection, which is why your Leawood, KS dentist emphasizes the need to replace a lost tooth.
Potential for Future Loss
When you lose teeth due to decay or disease caused by harmful oral bacteria, you may think your battle is over. It is important to keep in mind, however, that these bacteria thrive in the regions of the mouth that are closest to the gums and more difficult-to-reach areas, meaning that just because the tooth is gone does not mean the bacteria are. In fact, once a structure is no longer present and it is not replaced, your chances of surrounding teeth becoming infected or diseased actually increases dramatically. For these reasons, it is imperative to consider replacing it with a dental implant and restoration.
Decreased Function
Another reason to consider replacing a lost structure is its impact on your bite's function. Each tooth contains two main parts – a crown which is used for chewing and biting, and a root that is embedded below the gums in the jaw bone. The root serves as an anchor that is nestled securely in the bone, allowing the full stress of your bite to be absorbed. When a structure is no longer present, your bite becomes compromised as it attempts to readjust to accommodate for the missing structure, causing unevenness. If this is not managed, it could lead to jaw misalignment, difficulties chewing and biting, and even problems when enunciating. In order to prevent this process, restoring your smile with an implant is vital.
Having a Full Smile
Most people associate confidence with a bright, beautiful grin, as that is typically the first thing one notices about a person. When your smile is incomplete, it can result in a diminished level of confidence and cause anxiety about one's appearance. Whether you have lost one or more teeth, replacing them can be a quick and efficient way to get back on track for acquiring that beautiful beam you have always wanted. For more information, contact our team today.
Schedule Your Appointment
At Dreem Dentistry, we aim to provide quality service that establishes a healthy grin for life. Contact our Leawood, KS office at 913-681-5500 to schedule your appointment today.