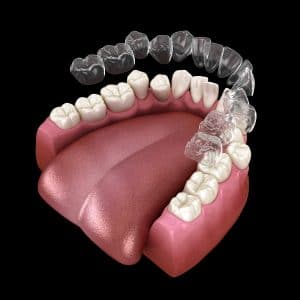 Do you have uneven teeth? People with crowded, crooked, or overlapping teeth could be at risk of developing serious oral health complications. In addition to embarrassment at your smile's appearance, you could also be more likely to develop decay and inflammation. In today's blog, your Leawood, KS, dentist will explain how we correct uneven teeth with clear and comfortable Invisalign® aligners.
The Dangers of Uneven Teeth
What makes misalignment such a danger for your smile? When we have uneven teeth, this could provide hiding places for food particles to become trapped, and also make brushing and flossing thoroughly a difficult process. These factors then lead to bacteria breaking down food particles, a process that elevates oral acidity and coats the teeth in a plaque and tartar buildup. Ove time, this means a higher risk of tooth decay and gum disease, as well as bad breath and teeth stains. The pressure on your joints and the upset to your bite's balance could also cause trouble, increasing the risk of TMJ disorder and bruxism (chronic teeth grinding).
The Invisalign® Treatment Process
With Invisalign®, we don't need to use metal brackets and wires to correct the position of your teeth. Instead, we use a series of clear plastic aligners that help teen and adult smiles alike. A set is worn for about 20 and 22 hours a day, fitting snugly over the teeth. After about two weeks, the patient upgrades to the next in the series, and the teeth are gradually and carefully moved into optimal positions. The total process takes about a year for adults, or up to 18 months for teens, but the exact time depends on the severity of your misalignment, and whether you wore the aligners as instructed.
Crafting Your Aligners
To create them, we start by taking a series of digital impressions and images of your smile. These images and measurements will be used in a special lab setting to craft the aligners. Each set is custom-made specifically for your smile, as there is no one-size-fits-all option.
Removable Braces
They can also be removed occasionally! For example, you can take them out prior to a meal, so you don't need to avoid certain foods or worry about them becoming trapped in braces. In addition, taking them out before you brush and floss means a much easier time caring for your smile. If you have any questions, then contact our team today!
Do You Have Questions About Cosmetic Orthodontics?
Our team wants to make sure you enjoy a healthy, even smile and can do so with the Invisalign® system. To learn more about clear orthodontics, schedule an appointment with us by calling Dreem Dentistry in Leawood, KS, today at 913-681-5500. We also serve patients who live in Overland Park and all surrounding communities.