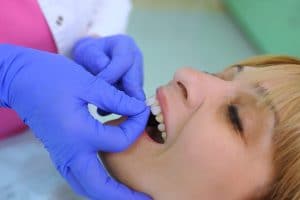 While teeth whitening masks stains, and bonding repairs minor damage, what if we had a single treatment option that could address those same concerns, and more? With porcelain veneers, your Leawood, KS, dentist knows how to improve the beauty and function of your smile in just two visits, helping you obtain the smile you've always dreamed about!
Creating a Porcelain Veneer
A veneer is a very thin shell of porcelain, one that is placed onto the tooth and instantly covers the front and sides to transform overall esthetics. To craft one, we will remove a thin layer of enamel from the tooth to make room, and then take detailed digital images and measurements. We use the information to design and craft the veneer in a lab setting. The porcelain we use is stain-resistant, and able to absorb daily bite forces and pressures. In fact, we often use the same material in our dental crowns! The material can also be tinted to blend with the surrounding teeth, and is translucent like natural enamel. The result is a restoration that matches your smiles seamlessly.
Placing Them
When the cosmetic restorations are ready, you will return to the office. We will check the fit and if necessary, make final adjustments. We then secure them with a powerful bonding agent. Once you leave, you do so with a transformed smile, one you can't wait to show the world! With proper care and attention, these restorations could last for decades to come.
Keeping Your Smile Bright and Strong
Remember, the teeth your new restorations are attached to are still vulnerable to common issues like cavities, infection, and periodontal disease. To keep your teeth strong and veneers stable, you need to continue to care for them daily. We suggest making time to brush your teeth when you get up and then again before going to bed, for about two minutes each session. A fluoride toothpaste is also recommended! Before bed each night, take time to floss up and down each side of every tooth, which will dislodge what a toothbrush alone cannot reach. Then be sure to see us every six months, so we can keep a close eye on your smile and remove all harmful plaque and tartar buildup. If you have any questions about our lifelike cosmetic restorations, then contact our team today to learn more.
Do You Have Questions About Porcelain Restorations?
Our team is ready to help you start your journey to a stunning and beautiful smile. To learn more about our cosmetic treatment options, schedule an appointment with us by calling Dreem Dentistry in Leawood, KS, today at 913-681-5500. We also serve patients who live in Overland Park and all surrounding communities.