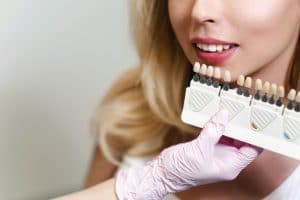 Keeping up with your smile's appearance can seem like a difficult feat, especially now in the midst of the Coronavirus pandemic. While advanced dental technology makes it much easier to address a few blemishes, and the cosmetic process of teeth whitening helps to restore that radiant shine, having multiple blemishes that appear to require different treatment options can still make the process complicated. Fortunately, the team at Dreem Dentistry in Leawood, KS understands this dilemma, which is why we recommend considering porcelain veneers to restore your grin.
They Address Multiple Blemishes
When you are no longer satisfied with your smile's appearance due to a myriad of stains, chips, or other blemishes, it may be time to consider your cosmetic options. Porcelain veneers are thin shells of highly customizable porcelain that are used to closely mimic the natural texture and appearance of your teeth. Each shell is custom-crafted according to precise measurements of your tooth to ensure it is an accurate representation of its natural, healthy-looking appearance. Their relatively simple placement process makes them a simple option to consider when wanting to enhance the quality of your teeth, and your dentist is happy to go through the process to see if this is the right option for you.
They Provide a Life-like Appearance
Not only is each porcelain shell customized to your tooth, but steps are taken to make them appear as life-like as possible. Each veneer is tinted or shaded to match the exact color of your smile, allowing a seamless appearance once placed. Not only that, but each shell is layered in order to replicate the way your natural tooth enamel reflects light.
After the cosmetic wafer-thin shell is created, it is placed on your tooth to instantly correct any blemishes present as well as fortify the oral structure to protect it from bacteria or other potential threats to your smile.
They are Minimally Invasive
The process of enhancing your grin is also minimally invasive. When placing, only a minor amount of enamel sculpting is needed to ensure the veneer has the support it needs for placement, and then it is simply bonded to the front of the teeth. The technology is very thin, usually no more than 0.5 mm, and thus blends right into your healthy grin almost seamlessly once completed.
Restore Your Smile with Porcelain Veneers
Most people are running around ragged from day-to-day activities, rendering it difficult to find time for themselves or their smile. The process of creating and placing dental veneers, however, is relatively quick and simple, giving the ability to enhance your teeth by correcting any blemishes it may contain. Contact the team at Dreem Dentistry in Leawood, KS today at (913) 681-5500 to learn more about your cosmetic dental options or to schedule an appointment.