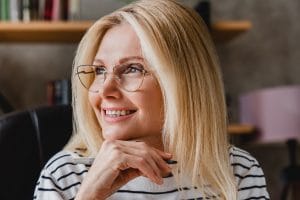 When people experience tooth loss, they may choose to replace their lost teeth for different motivations. For some people, the biggest concern is restoring their smiles' appearance and regaining their self-confidence. For others, it may be restoring proper balance and function to their bite so they can enjoy their favorite foods once again. These and many other factors can only be addressed by replacing your lost teeth with a highly lifelike restoration. For optimal results, more patients are choosing dental implants to create the most lifelike replacements for their lost teeth.
What dental implants are designed for
Replacing lost teeth has been a part of dental health care for ages, and today, most common tooth replacement options (including dental bridges and dentures) can recreate healthy, natural teeth with a high degree of realism. However, they're only designed to replace the visible parts, or crowns, of your lost teeth, which is why traditional dental bridges and dentures require abutment teeth, clasps, or adhesives to remain in place. Dental implants are designed to solve this problem by providing one or a series of root-like anchors to support your dental restoration.
Choosing implants to replace lost teeth
If you've recently experienced tooth loss and have not yet restored your smile, then it may be the best time to consider dental implants as the solution. The goal in replacing your lost teeth is to preserve your smile and oral health as much as to restore its appearance and function. Many of the more troublesome consequences of tooth loss stem from the loss of your natural teeth roots, which a conventional dental bridge or denture is unable to address. Choosing dental implants to rebuild your smile as soon possible after experiencing tooth loss will help you limit or prevent these consequences by replacing your lost teeth and their roots.
Using implants to upgrade your restoration
For patients who've worn a conventional dental bridge or denture for a while, many of the consequences of tooth loss are no longer a problem. Their smiles appear whole and healthy once more, and much of their bite's function should be restored. However, the lasting impacts of losing healthy teeth roots can continue to be a problem unless the restoration is supported by one or more dental implant posts. Upgrading a conventional restoration to one that's supported by dental implants can help you better preserve your future oral health as well as improve the comfort and function of your restoration.
Learn if you should consider dental implants
Whether your goal is to replace one or more recently lost teeth, or to upgrade your current dental restoration, it may be worth considering dental implants. To learn more, schedule an appointment with us by calling Dreem Dentistry in Leawood, KS, today at 913-681-5500. We also serve patients who live in Overland Park and all surrounding communities.