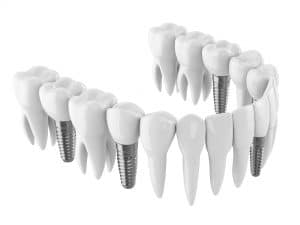 There are many different factors to consider when it comes to rebuilding your smile after tooth loss. For example, the number of teeth you've lost will determine what type of restoration is best for replacing them. Also, the potential impact of the loss on your remaining healthy teeth may be significant enough to require additional treatment as part of your smile restoration. However, one factor that people don't always consider is the quality of the support that their replacement teeth rely on. This can impact everything from the comfort and stability of your restoration to the long-term health and integrity of your dental ridges, which is one reason why dental implants are often preferred for supporting most types of replacement teeth.
They mimic the roots of healthy teeth
Dental implants have a slightly different goal for restoring your smile than traditional dental bridges and dentures do. With conventional restorations, the main focus is restoring the immediate functions and visibility of your teeth. For example, a custom-designed dental bridge or denture consists of an appropriate number of highly lifelike replacements for the crowns of your lost teeth. This enables them to successfully restore your smile's appearance and much of your bite's ability to process food. Dental implants enhance the functionality of your replacement teeth by giving them one or more replacements for your teeth roots, as well. The implant posts are inserted into your jawbone to replace the roots of your lost teeth, and can offer a similar level of support for your custom-designed dental restoration.
They replace more of your lost teeth's functions
The roots of your teeth are the foundations that keep them steady when you bite and chew, but their overall purpose extends far beyond this. For instance, the healthy roots of your natural teeth rest within sockets in your jawbone, and are supported by the surrounding bone structure and a series of complex periodontal tissues and ligaments. When the root structure of your tooth absorbs pressure from your bite, this pressure stimulates the root and the tissues, ligaments, and bone structure surrounding it. The collective stimulation of all of your teeth roots contributes to the flow of minerals and nutrients that sustain your jawbone's health and integrity. In addition to stabilizing your dental bridge or denture when you chew, dental implant posts also reestablish this vital stimulation, helping you avoid the jawbone erosion and other complications that can arise from the loss of stimulation in your dental ridge.
Support your replacement teeth with dental implants
Dental implants are able to give your replacement tooth or teeth a greater level of support, which translates into increased comfort, stability, and function for your restoration. To learn more, schedule an appointment with us by calling Dreem Dentistry in Leawood, KS, today at 913-681-5500. We also serve patients who live in Overland Park and all surrounding communities.