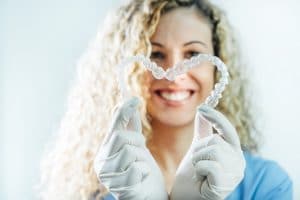 There are many less-than-ideal reasons why older teeth and adult patients might hesitate to choose straightening their crooked teeth. For example, some may hesitate out of worry about how the placement of traditional braces may impact their smiles' appearance and their overall confidence. The problem is that hesitating to straighten crooked teeth may only make the problem worse, leading to more severe oral health concerns and the potential need for more extensive treatment. Fortunately, many people can avoid having to get used to traditional metal braces by choosing Invisalign® clear aligners, instead.
When your adult teeth become crooked
The problem with tooth misalignment isn't something that only occurs in childhood. Even after they've fully developed in proper alignment, your adult teeth may become crooked over time due to a number of different factors. For instance, you may grind your teeth chronically, forcing one or more of your teeth out of their straight, natural positions. When this or another concern causes your teeth to lose their proper alignment, the consequences can be significant for your oral health, bite function, and more.
When you want to avoid the risks of crooked teeth
The different concerns that come with crooked teeth can impact different aspects of your oral health to various degrees. For instance, misaligned teeth don't meet each other squarely when you bite and chew your food, which means your jawbone, joints, and muscles have to compensate for the imbalance. The stress of this can cause damage to the tissues that control your bite's movement and make your tooth misalignment increasingly worse. The only effective way to prevent this is to straighten your crooked teeth as soon as possible. With the help of Invisalign® clear aligners, more people can be encouraged to straighten their crooked teeth without hesitation.
When you want to keep your treatment convenient
One of the most attractive qualities of Invisalign® aligners is the fact that they're nearly invisible. Made from clear, BPA-free acrylic, the aligners are designed to remain discreet throughout the course of your treatment. However, the more convenient nature of Invisalign® clear aligners also provides several different advantages to the everyday status of your oral health. For instance, you can remove clear aligners for a few moments before brushing and flossing your teeth, successfully cleaning them without having to work around metal brackets and wires.
Learn why you should choose Invisalign® clear aligners
Any reason you choose to straighten your crooked teeth is a good one, and Invisalign® clear aligners can help you achieve that goal more comfortably and conveniently. To learn more, schedule an appointment with us by calling Dreem Dentistry in Leawood, KS, today at 913-681-5500. We also serve patients who live in Overland Park and all surrounding communities.