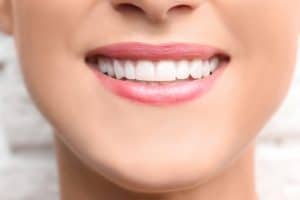 A smile's look is primarily affected by stains. However, other issues like chipped teeth, cracks, and gaps all play into its appearance. While you can address stains with a teeth-whitening treatment, it won't fix those other things. But with bonding and contouring, your Leawood, KS, dentist can help you achieve the look you want for your teeth. 
What Is Bonding And Contouring?
These cosmetic treatments are minimally invasive, but each accomplishes different results. Let us start with bonding first. If you have a tooth that is chipped, for example, we can restore its structure with a tooth-colored resin that is biocompatible. The resin is customizable to match your natural tooth's shade. We will bond it to your tooth and then sculpt it so that it is the correct shape and size. With contouring, only a tiny portion of enamel is sculpted from your tooth to improve its appearance. 
Why Should I Get These Treatments?
The best reason patients choose bonding and contouring is that they will help them maintain good oral health. Neither treatment will permanently change a tooth's structure. Both methods, too, may be preferable alternatives to more extensive procedures, such as porcelain veneers or dental crowns. 
How Do The Procedures Work?
Bonding and contouring are usually quick treatments and are often performed in the office. Patients can elect to have no anesthesia or a little bit of it. For bonding, we will prepare your tooth by etching its top layer before we apply a conditioning gel. This will help the resin stick to the tooth. The resin is matched to your tooth's color, and then we apply it onto the enamel. A special light helps harden the resin. Afterward, we polish and smooth out the bonded tooth so that it looks natural. For contouring, we will take an x-ray first so that we can see the amount of pulp in your tooth and its location. Then we carefully shape and trim the tooth by removing the enamel before polishing and smoothing it out. 
Taking Care Of Them
Your newly bonded or contoured teeth may feel a bit strange at first. However, you will get used to them over time. For those who have bonded teeth, there is a high risk of chipping or staining them. We recommend that you avoid hard foods and not bite on objects like pencils or pens. Minimize, too, the amount of stain-producing drinks you have on a daily basis. And if you smoke, we suggest you stop. Make sure you are brushing twice a day with toothpaste that includes fluoride and that you floss nightly. 
Schedule An Appointment To Learn More
If you feel that your smile could use a confidence boost, consider bonding and contouring. To learn more, schedule an appointment with us by calling Dreem Dentistry in Leawood, KS, today at 913-681-5500. We also serve patients who live in Overland Park and all surrounding communities.