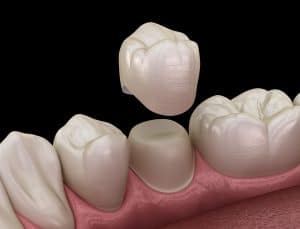 As strong as they are, teeth can sometimes break or become weaker. This doesn't have to be the end of them, though. There are ways you can save a tooth and reinforce its natural structures. It is called a dental crown, and it is one of the restorative dentistry services that your  Leawood, KS, dentist offers.
What Is It?
Basically, a dental crown looks like your tooth and is placed over it. Think of it like a cap that a tooth wears. This could be done for several reasons, such as if you
Have a large cavity that is unable to be treated with a filling
Have a cracked tooth or one that is worn down
Have had a root canal treatment
They can be used to stop most damages from getting worse. They can also take on the force of a bite's pressure to protect the structure underneath.
The Materials They Are Made From
We recommend custom-designed porcelain crowns because, along with restoring the tooth, they also have a natural appearance. Still, they can be made from other materials, such as ceramics, composite resin, and metal alloys. Whatever the material, they are made to blend in with the color of your natural teeth. Deciding on which material to use depends on many factors, such as a tooth's location, how the gum tissue looks, how much of the tooth will show when you smile, and personal preference.
Putting It In Place
A dental crown treatment usually takes two visits to our Leawood, KS, dentist office to complete. The first step is preparing the tooth. To make sure the crown will fit, its outer portion will be removed, and signs of decay will be cleaned out. An impression of the tooth is made next so that a precise model of the crown can be constructed. This impression is made either from a mold or through digital scanning. A temporary crown may be put in place while the permanent one is being made. You will visit the dentist when the new one is ready. Once it is put in place and it feels and looks good, it is finally bonded onto the tooth.
Sometimes A Partial Is All That Is Needed
Known as inlays and onlays, partial crowns are very effective options. Instead of modifying the whole tooth's crown, just the part that needs restoration is covered. This can help save tooth structure, too. We can help you decide which, full or partial, is best for your oral health.
Contact Us To Learn More
A dental crown is a great way to restore a tooth and update its appearance. To learn more, schedule an appointment with us by calling Dreem Dentistry in Leawood, KS, today at 913-681-5500. We also serve patients who live in Overland Park and all surrounding communities.