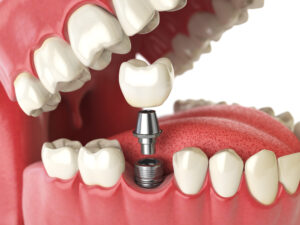 When you have missing teeth, whether this involves one lost tooth or all of them, you need a prosthetic to restore function and beauty to your smile, and to safeguard your quality of life. With dental implants, your Leawood, KS, dentist can replace missing teeth and let you start 2024 on the path to a full and beautiful smile!
The Causes and Dangers of Tooth Loss
Tooth loss can be caused by a variety of factors, such as an untreated decay or infection, or even an injury to the tooth. But the most common cause is periodontitis, the advanced stage of gum disease. When we lose teeth, this gap could cause misalignment that alters smile beauty and makes the onset of cavities and gum disease more likely. The stress on your jaw joints from missing teeth could be linked to complications like TMJ disorder and bruxism (teeth grinding). You could have issues eating a variety of different foods, and could even experience trouble speaking clearly. But the most sinister complication is the loss of mass and density in the jaw, which causes further tooth loss and could even lead to an aged appearance. But we can prevent these issues when we replace missing teeth with dental implants.
Dental Implants
Dental implants are a unique tooth replacement option that not only replaces the part of your missing tooth that people see, but the roots as well. We insert biocompatible titanium posts into the jaw, which the body accepts as atrial tooth structure. These posts bond with the jaw and prevent the loss of mass and density, protecting the smile further tooth loss. We will guide them into place with digital technology, ensuring they sit at the perfect angle and position to support new teeth and stimulate the growth of jawbone structure, preserving your smile as a whole in the process.
Implant Dentures
For an individual dental implant, our team will use an abutment and crown to complete it, so you have a new tooth that looks natural and allows you to eat your favorite foods again and smile with confidence. If you have more severe cases of tooth loss, then we could insert multiple posts to support a prosthetic, including a denture! Implant dentures are fixed and never slip, and don't need to be removed for cleaning or soaking either. They last far longer than removable ones, and look and function like natural teeth.
Do You Need Implant Dentistry?
Our team is ready to handle your missing teeth with lifelike and durable dental implants. Call Dreem Dentistry in Leawood, KS by calling (913)681-5500 if you need to treat your missing teeth. We also serve patients who live in Overland Park, South KC, South OP, Martin City, MO, and all surrounding communities.