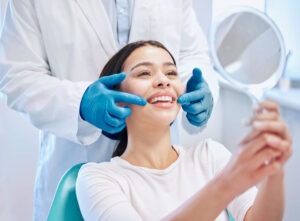 Teeth-whitening is a great cosmetic dental procedure to consider whether you have a big upcoming event, or if you'd simply like to embrace a brighter smile. We offer two different options for stain removals, either of which can bring you results that last longer than store bought whitening kits. 
So when should you whiten your teeth, and what's the best way to do so? It's entirely up to you, although we have a few recommendations, depending on your situation.
Those who have mild to moderate stains may opt for a single-appointment for restoring their smile before events such as a job interview, wedding, high school reunion, or even an upcoming date. If you have sensitivity or more severe discoloration, a longer-term solution could be a better option.
There's also the option for having your teeth whitened before having veneers put on to avoid different colored teeth. Here's what to consider and expect in each of these situations.
Removing Moderate Stains
When you have mild stains, a single treatment can help. Mild to moderate stains can be addressed in one visit at our office using a powerful bleaching solution that can brighten your teeth by several shades.
Our team starts by putting a protective coating on your lips and gums and then placing a special gel on your teeth. A light is then applied to the area to activate the gel and break up the staining. This procedure can be done in as little as an hour.
Addressing Severe Stains
When it comes to more intense staining, a home-based brightening treatment may be worth considering. Our at-home treatment helps prevent tooth sensitivity while also providing even results.
For this option, you'll receive a set of plastic trays customized to fit your teeth, as well as some syringes that are pre-filled with bleaching solution. You'll wear the trays (filled with the solution) for approximately one hour every day over the course of one to two weeks, depending on the stain severity.
It's a longer procedure, but you can see results of teeth up to eight shades brighter. And you can use any leftover gel for touch-ups in the months following.
Whitening Before a Dental Restoration
If you're getting a dental restoration like veneers, a crown or bonds, you may consider whitening your teeth beforehand. These restorations can't always be bleached, so if you have any stains on your teeth, they may not match the restoration.  By eliminating the discoloration before having veneers placed, you can avoid any mismatched shades on a beautiful new smile.
Is Teeth-Whitening for You?
Stained teeth can cause you to hide your smile and even avoid committing to important life events. However, professional teeth-whitening treatment can improve your confidence and conveniently brighten your smile. Whether you have subtle staining or more severe blemishing you'd like to part with, we can help find the right solution for you.
Schedule a Visit with Our Team!
To schedule a consultation with us, call Dreem Dentistry in Leawood, KS, today at 913-681-5500. We also serve patients who live in Overland Park, South KC, South OP, Martin City, MO, and all surrounding communities.