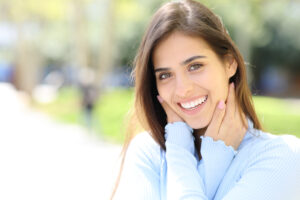 Do you have more than one issue with the health, function, and appearance of your smile? If so, then you could benefit from a full mouth rejuvenation, in which we combine multiple treatments to offer a smile makeover. In today's blog, your Leawood, KS, dentist talks about how we can rejuvenate your smile!
Diagnosing Your Smile
To begin, we will diagnose the factors behind the current state of your smile. With digital x-rays and intraoral cameras, we will identify the factors that are harming your oral health, and assess their severity so we can plan the rejuvenation process in detail. Every smile is unique, and some full mouth rehabilitation can be relatively minor, while others may be more extensive, depending on the state of your oral health.
Full Mouth Rejuvenation
Once we examine your smile, we will create a personalized treatment plan to tackle your oral health issues. We want to not only offer relief for issues like decay, infection, or tooth loss, but we want to ensure the finished results match your smile and offer an attractive appearance, so you feel proud to show off your new smile without hesitation! To keep you comfortable during treatment, we can offer local anesthesia and local sedation to help you enter a calm and relaxed state, with little to no memory of the procedure afterward. For some, this could be done in one to two visits, while others may need more to adequately correct your smile's imperfections and offer optimal results.
Common Treatment Options
Our team could use composite resin to treat cavities and also repair minor damage or esthetic issues with your teeth. Dental crowns can be custom-made for your smile to address severe decay or infection, or to repair damage and improve overall bite balance. If you have underlying issues like TMJ disorder and bruxism, we can use oral appliance therapy to offer relief without the need or invasive treatments. If a smile has multiple cosmetic issues, we could use porcelain veneers to cover the teeth and instantly reshape and transform your smile. If you have missing teeth, then dental implants can offer replacement that stimulates jawbone growth to preserve your youthful features, and also ensure your new tooth or teeth can last. In addition to tooth replacement, these can secure a bridge or even a full set of fixed dentures.
If you have any questions about our approach to a full mouth rejuvenation, then contact our team today.
Talk To Your Leawood, KS Dentist About Full Mouth Rehabilitation
Our team is here to help you obtain your best possible smile. If you want to learn more about transforming the health, beauty, and function of your smile, then contact Dreem Dentistry in Leawood, KS by calling 913-681-5500.