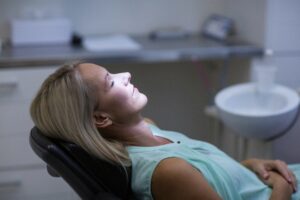 We never want dental anxiety or fear to prevent our patients from taking care of their oral health. This is why we offer three options to ensure your comfort needs are met. In today's blog, your Leawood, KS, dentist talks about how we reduce anxiety and stress with three options including sedation dentistry.
Nitrous Oxide
Nitrous oxide, commonly known as laughing gas is the easiest option and is most often used to relax patients for minor treatment such as dental cleanings or fillings. With this option, a small face piece is placed over the nose to administer the nitrous oxide gas. The amount can be increased or decreased depending on your needs. You will feel relaxed, and some patients even feel euphoric. Once the treatment is finished oxygen will be administered for a short time and you will be back to normal almost immediately.
Oral Sedation
Oral sedation consists of taking a pill which is usually an anti-anxiety drug. This option is best for those undergoing more invasive treatment when nitrous oxide isn't enough to relax them. The medication is usually taken before the dental procedure to allow enough time for it to take effect. We will provide you with specific instructions on when and how to take the medication. The sedative effects can take some time to wear off so you will need to have someone accompany you to drive you home.
IV Sedation
IV sedation provides a deeper level of sedation. A medication will be administered through a vein, providing a faster and more profound relaxation effect compared to oral sedation. This method is for those with extreme anxiety or fear of dental procedures and is often used for more invasive oral surgeries. The IV is given by a qualified dentist or anesthesiologist who will closely monitor your vital signs throughout the procedure. The dosage can be adjusted during treatment to ensure your comfort and safety. You will fall into a deep state of relaxation, but you will not go completely under. Some patients experience amnesia and cannot remember the entire procedure. If you choose this option, you will need to have someone accompany you and drive you home.
Talk To Your Leawood, KS Dentist About Sedation Dentistry
If you have concerns or questions about sedation dentistry, contact Dreem Dentistry in Leawood, KS by calling 913-681-5500. We look forward to determining the most suitable relaxation method for your specific situation.