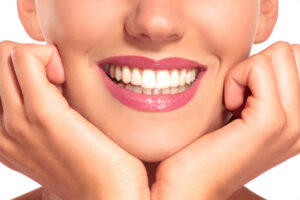 When you have cosmetic issues with the shape and color of your teeth, even if these are multiple issues, then you may benefit from a cosmetic restoration. Porcelain veneers can instantly transform your smile, offering a makeover in as little as two visits. In today's blog, your Leawood, KS, dentist talks about our custom cosmetic veneers.
The Cosmetic Concerns That We Address
How do porcelain veneers transform a smile? Each one will cover the front and sides of a tooth, instantly reshaping them and masking an array of cosmetic issues. For example, we can cover permanent teeth stains, the type that may not respond well to teeth whitening. Our team can fill gaps between the teeth, repair minor chips and cracks, and even lengthen worn down teeth too. Placement has corrected misshapen teeth and even addressed the appearance of uneven teeth, providing a straighter-looking smile for people with minor misalignment. For many people, this offers a smile makeover in only two visits.
Creating Your Cosmetic Restorations
To get started, our team will numb the tooth or teeth being treated, and then gently remove a thin layer of outer enamel, making room for the completed veneer. We then take detailed digital images and measurements of the prepared teeth, which are then used in a lab setting to design and fabricate the finished restoration. The restoration is made from porcelain because the material is very durable and strong, we can use them in crowns and even replacement teeth, such as bridges. The material is also translucent like tooth else and can be shaded to blend with your smile seamlessly. We may even whiten your teeth beforehand so they match your brightest possible smile!
Placement and Maintenance
When your porcelain veneers are ready, we will check the fit and make any last-minute adjustments before we attach them with a powerful bonding agent. They can stay in place for years to come, and routine care can help ensure the tooth we've attached them to stays strong and healthy. You should brush and floss daily to prevent issues like gingivitis, gum disease, or even tooth decay and infection. Try to eat a healthier diet and reduce your consumption of options high in sugar and starch. Be sure to see our team for a checkup and cleaning visit, so we can keep a close eye on your smile and watch for warning signs of trouble.
If you have any questions about our cosmetic treatment options, or about receiving one or more porcelain veneers, then contact our team today.
Talk To Your Leawood, KS Dentist About Cosmetic Dentistry     
Contact Dreem Dentistry in Leawood, KS by calling 913-681-5500 to learn more about how we can employ custom cosmetic restoration to improve the overall beauty of your smile.