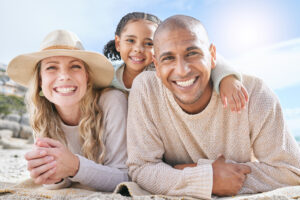 Our team understands the importance of routine dental care, which can help kids and adults alike enjoy full and beautiful smiles. We offer treatment for the whole family, and can start everyone on the journey to their best possible smiles. In today's blog, your Leawood, KS, dentist talks about our approach to family dentistry.
Checkups and Cleanings
From babies to seniors, everyone benefits from a routine checkup and cleaning every six months. A baby's first visit happens at around age one, and regular checkups and cleanings commence about age two. For all ages, this is a chance to carefully examine the smile with digital x-rays and intraoral cameras, which use a fraction of the radiation and provide a diagnosis with precision and accuracy. We can identify areas of concern and treat them before they threaten smile stability. Our team watches for concerns like tooth decay, infection, gingivitis, and gum disease, as well as TMD, bruxism, and other serious oral health issues.
Screenings and Oral Appliances
In the same visit, we will also screen for oral cancer. When someone has oral cancer diagnosed early this increases the chances of a full recovery, as the high mortality rate of oral cancer is mainly due to the fact that people rarely catch it in the early stages.
In addition, if we discover signs of issues like TMJ disorder, bruxism (teeth grinding), and sleep apnea, we could create an oral appliance based on detailed images of your smile. When worn, the device can reposition the jaw to prevent strain and stress, and to keep airways open, so you obtain a comfortable and noninvasive treatment for common jaw joint concerns and sleep disorders.
Lifelike Restorations
What if you or your child have a cavity, or possibly a damaged tooth? Treatment is crucial for avoiding worsening pain and the risk of infection or even tooth loss. When we place fillings and crowns to repair and restore the teeth, we take care to use lifelike and biocompatible materials, such as porcelain, so you can smile with confidence and enjoy optimal protection. These materials are also metal-free and safe for people of all ages.
Children's Dentistry
Our team also offers unique preventive treatments for little smiles too. With a topical fluoride gel applied every checkup, we can strengthen the outer enamel to reduce the risk of future cavities. Likewise, we can place dental sealants on the rear teeth, which are difficult for kids to reach when they brush and floss. These stay in place for up to ten years, and help fight the onset of tooth decay.
Does Your Family Need to See the Dentist?
Contact Dreem Dentistry in Leawood, KS by calling 913-681-5500 to learn more about how to safeguard the smiles of your entire family!