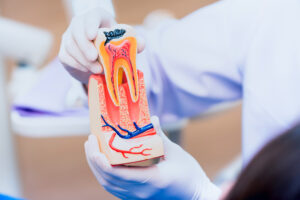 When you have a tooth that develops a painful infection or an abscess, then treatment is crucial for avoiding the loss of the tooth. With an endodontic procedure, we can actually preserve your smile. In today's blog, your Leawood, KS, dentist talks about treating smiles with root canal therapy.
The Causes and Dangers of an Infected Tooth
An infected tooth could be a source of severe discomfort and could risk the loss of your tooth. The tooth becomes infected when harmful oral bacteria reach the inner pulp, the nerve center of your tooth. This could be caused by an untreated cavity that grows in severity, or due to an injury or teeth grinding. You could begin to exhibit toothaches, sensitivity, and pain when you bite and chew. Headaches are common, as is facial pain, swelling around the tooth, and a discharge from the tooth. When you exhibit these common warning signs, then let us know right away so we can help with a root canal.
Keeping You Comfortable During Your Endodontic Treatment
We always take steps to ensure you're comfortable and relaxed during the procedure and afterward. Many find the procedure comparable to a simple filling placement. We first plan the procedure in detail by taking digital x-rays of your tooth, which are precise and accurate, using 90% less radiation and becoming available instantly chairside. We then number your smile with a local anesthetic, and for an anxious patient we may also provide sedation. Once you're calm and comfortable, and we've planned the procedure in detail, we move forward with root canal treatment.
Root Canal Therapy
Our team will need to open the tooth so we can reach and remove the tissues within. We then clean the interior of the tooth and the root canals. Once we do, we add a special restorative filling known as gutta percha. The last step is to cap the tooth with a dental crown. The restoration will be able to handle daily bite forces and protect the tooth from reinfection. We also take steps to ensure it looks natural and blend with your smile.
Moving forward, you can lower your risk of infection with daily brushing and flossing, a healthier diet, and regular visits for checkups and cleanings every six months. If you have any questions about avoiding dental infection or tooth decay, or about the root canal procedure itself, then contact our team today to learn more. We want to help you enjoy a healthy, comfortable, and beautiful smile for years to come.
Ready for Endodontic Dental Care?
Contact Dreem Dentistry in Leawood, KS by calling 913-681-5500 to learn more about how we address protect the stability of your smile with endodontic treatment and how to help safeguard your smile from issues like decay or infection.