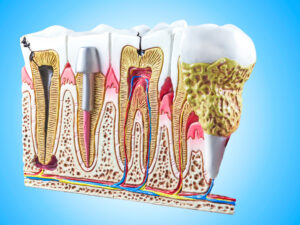 Your teeth are among the strongest bones in the human body, and while it may take a lot to cause significant damage to your oral health, it is best not to test the limits of what your smile can endure. Indeed, your teeth are far from indestructible, so when they experience issues such as infections, disease, and other damage, timely restorative dental care is essential to pursue. In today's blog, your Leawood, KS dentist will explain how infections can cause significant structural damage to your teeth and how root canal therapy can help salvage your natural structures.
Providing Complete Smile Care
It is necessary that you practice routine dental prevention, as it is the primary tool you have for keeping your smile healthy. In addition to attending your checkup and cleaning appointments, you should be brushing your teeth at least twice a day and flossing at least once. Because your oral health is affected by multiple different components, it is important that your preventive routine reflect this makeup as well.
Though you may feel as though you are taking every possible stride to care for your smile, keep in mind that it only takes a few instances of coming up short for bacteria to wreak havoc on your structures. Fortunately, restorative treatment can help.
It is more ideal to treat decay and other forms of infection in the earliest stages – such as pursuing a filling to address a cavity – as it allows for a greater chance of successful treatment. As decay progresses, however, it targets an even greater area of your tooth. Once it reaches a certain point, the tooth will be considered beyond saving. To learn more about this process and how our team can help you, give us a call.
Mitigating an Infection
When the infection spreads in a tooth, it starts to work its way inside the structure. From here, it is able to cause damage to the sensitive nerves that are housed in your teeth roots, resulting in sensitivity, discomfort, and even pain.
The window for treating a significant infection such as this is much narrower than you might have thought, so it is important you do not put off seeking treatment to mitigate the issue. Contact our office to learn more about your treatment options today.
There is A Recovery Time
One of the best ways to treat significant tooth infections might be through root canal therapy. This process involves removing the infection and filling the open root canals with dental material. Because of the nature of the issue, there will be a recovery time as your natural tooth heals.
Learn More Today
Contact Dreem Dentistry in Leawood, KS by calling 913-681-5500 to schedule your next appointment with our office and learn more about the importance of seeking timely restorative dental treatment.